Samsung hints a 4K phone display is in the works, confirms it made a QHD screen with 560ppi
35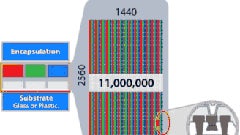 At its Semiconductor and Display Technology Roadmap workshop, Samsung presenters have apparently indicated that they indeed have a
QHD Super AMOLED mobile display panel ready
, with 560ppi pixel density, and even more resolute ones are in the works.
QHD is 1440x2560 pixels, and to achieve such pixel density a smartphone screen panel should be about 5.2 or 5.3 inches in diagonal, so that's what the upcoming
Galaxy S5
might aim at in terms of screen size. It'd be pretty surprising if Samsung has such a high-res AMOLED screen ready, and doesn't use it in the S5 to gain advantage, especially considering that
everyone and their parakeet will be releasing QHD flagships
this year.
What is even more interesting is that Samsung hinted it has even higher-resolution smartphone displays in the pipeline, and plans to launch UHD phones in the not so distant future. UHD is the whopping 2160x3480 pixels of 4K resolution, and the pixel density here jumps to the crazy 860ppi count, indicates the source, nestled in a sub-5" display size.
These resolutions, however, are mentioned together with the "
diamond pixel
" term, which is a fancy way to say a non-standard pixel matrix arrangement, that is closer to PenTile, than the standard RGB stripe matrix. In any case, at 500+ ppi, nobody would notice the individual pixels anyway, so we can't wait to see what Samsung is prepping for us in future phones, just when we thought Full HD panels are more than enough for anyone's purposes.