Samsung spent $10.2 billion to get you to buy the Galaxy S7 and other S-stuff last year
22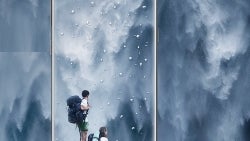 Samsung is notorious for its huge marketing spending, but fellow Korean big shot LG is catching up each year. Still, there's a lot of spending LG has to do before the $1.6 billion it scrounged together in 2016 touches Samsung's $10.2 billion.
This billion-dollar marketing doesn't include just smartphones, of course, that would be quite desperate! But the two do spend a lot of money to get you to buy their phones, regardless. Industry watchers say Samsung spent most of that money on promoting smartphones like the
Galaxy S7
and the ill-fated
Galaxy Note 7
, while LG promoted "high-end home electronics" – possibly OLED TVs and semi-sentient vacuum cleaners. LG increased its spending on ads by 21.4% from last year.
Both companies are expected to continue with their relentless marketing strategies throughout 2017, engaging in bespoke ad wars.
Samsung issued a TV ad
for the then unannounced Galaxy S8 shortly after the LG G6's reveal, and
LG answered with one
barely a day before Samsung's big reveal. It must be paying off, for both handsets are in demand in Korea, as well as globally.
With that said, here's the worst Samsung commercial ever, because when you're spending billions on marketing, a couple o' hundred thousand dollars are bound to go in the wrong place: