Samsung says 3D makes phones too bulky, but ready to roll one if people like it
3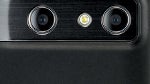 The product management chief of Samsung Mobile in the UK, Jim Powell, said at the MWC 2011 Expo that the company is not planning a 3D-capable cell phone just yet:
"
We are world leaders in 3D, but we haven't seen a need for 3D on mobiles as yet for UK customers... There's a trade off with when it comes to thickness and pocketablity when it comes adding 3D into a mobile phone as well...We just don't see [3D] is needed yet – good luck to the innovators though, it will be interesting to see if it works, and if it does you'll see a response from Samsung quickly.
", he adds
It looks like Sammy is taking the wait-and-see approach regarding the
LG Optimus 3D
, to gauge people's interest in the technology, and wait for the content market to mature enough before it jumps in.
We've no doubt Samsung is capable of quickly putting together a parallax barrier screen overlay, which is supposed to add the bearable $10-$15 to the cost to manufacture a touchscreen phone, and slap a couple of camera lenses on the back, should people fall in love with 3D.
source:
TechRadar