Samsung reportedly makes half of the components for Google's Pixel 7 Pro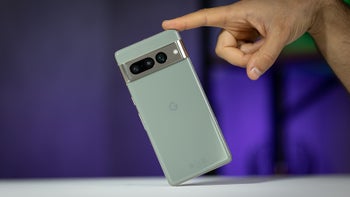 One of the
best Android phones
released in 2022 was the
Google Pixel 7 Pro
, and it managed to achieve that status while also being one of the most affordable flagships on the market. But how much does it cost to manufacture such a device? Well, a report by
Counterpoint Research
states that the price Google pays for each unit amounts to $413.
More specifically, the report talks about the 128GB Pixel 7 Pro, and the part that is most intriguing is that about half of the components making up the phone are made by none other than
Samsung
. The 6.7-inch AMOLED displays, for example, with a resolution of 1440 x 3120 pixels round up at a massive 20% of the Pixel 7 Pro's cost.
Additionally, even though the 5nm Tensor G2 chipset powering the phone is customized by Google itself, it is still made with the help of Samsung and adds 7%. In comparison, the previous generation of Tensor, as well as the Titan M security co-processor that's also designed by Google, cost $10 less than the ones found in the Pixel 7 Pro.
Samsung is also the company providing Google with the ISOCELL GN1 camera sensor, which is the powerhouse behind the
Pixel 6 Pro
and 7 Pros main shooters. The 5x telephoto and front-facing cameras are also said to also be powered with Samsung image sensors. What's more, together with other companies like Micron and Murata, Samsung contributes with the RAM and mmWave antennae respectively.
Check out this graph that visualizes where all the parts for the Pixel 7 Pro come from: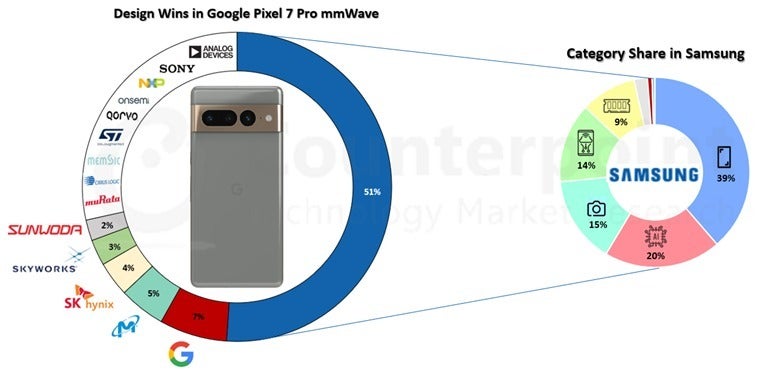 As you can see from the graph, apart from Samsung there are also some of the other more notable manufacturers Google is working with to build its smartphones, like SK Hynix, which provides the 128GB NAND Flash modules for storage. Skyworks, on the other hand, is responsible for the WiFi connectivity of the Pixel 7 Pro.
Despite all of this information, however, it is hard to say how much Google makes exactly per unit sold, as there are other expenses to factor in such as research and development and marketing. Whatever the case might be, there is no denying that having a lower price tag slapped on to its flagship phones makes Google stand out from the rest of its competitors.