Samsung posts record $5.9 billion profit for Q2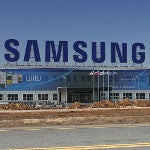 "Regardless of Apple's performance, Samsung will be strong in the third quarter. Actually, for Samsung, Apple's stumble is a chance."-Byun Han-joon, analyst, KB Investment & Securities
As expected, Korean manufacturer Samsung reported
record earnings for the second quarter
. $5.9 billion in profits were earned by Samsung, mostly due to the hot selling Samsung Galaxy S III. Last week, Samsung Mobile chief JK Shin said that
10 million units of the device have been sold
with an additional 10 million expected to be sold by fall. The mobile business provides about 60% of the Korean firm's bottom line.
Ironically, because Samsung produces mobile memory and application processing chips for the Apple iPhone and Apple iPad, the company could see its bottom line benefit from strong sales of both devices.
The current quarter, ending in September, will probably give the Samsung Galaxy S III two more months
without being challenged by the 6th generation Apple iPhone
,
which could launch September 21st
according to the latest speculation. With two more months without competition, the Samsung Galaxy S III is supposed to lead Samsung to profits of $7 billion in the current three month period. Analysts say that Samsung could sell 15-20 million more units of the Samsung Galaxy S III in the current period. Revenue in the quarter came to $41.5 billion, up 21% from last year.
In the just released quarter, Samsung handset sales doubled and the
momentum should continue with the upcoming sequel to the Samsung GALAXY Note
. The Samsung GALAXY Note is a combination phone and tablet often referred to as a "phablet" with a
5.3
inch display. Speculation calls for the
GALAXY Note II to have a slightly larger 5.5 inch screen
.
Earlier this year Samsung took over struggling Nokia's reign as the top global handset manufacturer. It is estimated to have shipped over 50 million handsets in the second quarter versus 26 million iPhones sold by Apple. Apple's figure was a 26% drop sequentially as some smartphone buyers await the next iteration of the Apple iPhone. But in the meantime, the Samsung Galaxy S III is here now and with a 4.8 inch display, 2GB of RAM in the U.S., LTE connectivity and Android 4.0 aboard, many are asking why should they wait for Apple when they can
buy such a formidable model now
. The next version of the iPhone could merely match many of the specs that top Android models already sport such as the 4 inch or larger display, LTE connectivity and 1GB of RAM.
source:
Reuters