Samsung posts best quarter in 3 years, OLED screens demand to grow on 'innovations in smartphone form factors'
20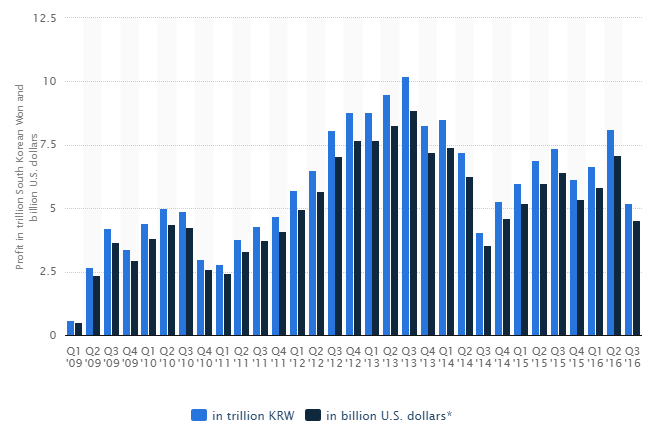 Boosted by its display orders and strong memory chip market, Samsung just announced its best quarterly results since the good old days of the
Galaxy S4
and
S5
, as you can see in the profit graph here. The company made roughly $7.92 billion profit in Q4, on $45.4 billion of revenue, which is a whopping 50% increase year-on-year. What about
the Note 7 fiasco and the $5 billion writeoff
($2.5 billion for Q4 alone) that stemmed from it? Well, it is still valid, but strong demand for Samsung's component businesses managed to successfully offset that bottom line carnage.
In the OLED business, the demand for value-added flexible panel is projected to grow substantially from the innovations in smartphone form factors
We can only imagine what would Samsung's quarter look like
had it supervised its battery suppliers more
, instead of just giving them the specifications to make one of densest packs in a mobile, and its dimensions, then trusting they have been up to the task rather than just chasing deadlines. So, what accounted for such a startling reverse in the profit situation in Q4? "
Robust sales of high-end, high-performance memory products and expanded process migration in V-NAND, plus strong shipments of OLED and large-size UHD panels contributed to profitability
," tips Samsung. So, everyone moving to SSDs, OLED panels and more memory for phones, and 4K displays for TVs, is mainly benefiting Samsung for now, it seems.
Apple has reportedly ordered it
100 million OLED screens
over the course of three years, and, while it is
trying to diversify suppliers
, Samsung will be selling those OLEDs as fast as it can make them in the next year or two at least, so expect the profits from these departments to only rise going forward. Apple will allegedly use those flexible OLED screens for an
iPhone 8 with wraparound display
, and the
Galaxy S8
is also tipped to
sport a curved screen
with very high screen-to-body ratio. These are the phones Samsung may be referring to when it says in the presser that it expects demand for its flexible screens to "
grow substantially from the innovations in smartphone form factors
."
The mobile division also fared pretty well, all things considering, as it posted a year-on-year profit increase to $2 billion, perhaps buoyed by people alternating the Note 7 with a
Galaxy S7
or
S7 edge
, and is expected to do even better in the next few months as sales of the new
A
and
J
series commence. Another piece of good news we are seeing here is that Samsung is no more overly reliant on the flagship S series for its profits, as in the days of the Galaxy S4, for instance, and the rest of its business actually accounts for two thirds of its profits now, which can only pay off in the longer term. Also, Samsung expects that its
Bixby virtual assistant
that is said to debut with the
S8
, will be a killer feature, and bets on bringing premium features like glass waterproof chassis to its A and J series portfolio as well.
For Mobile in 2017, the company will continue to innovate both in software and hardware across its entire line-up and prioritize consumer safety. Although the growth of the global smartphone market is expected to slow this year, new services such as artificial intelligence (AI) will be a differentiating factor. The mobile business will seek to strengthen its leadership in the premium market and boost competitiveness of mid-to-low end smartphones by adding innovative features available in high-end models.