Alleged Galaxy S8 edge design gets tipped by a case maker render
44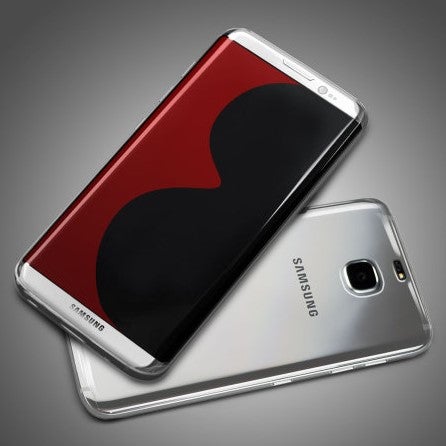 Look, Ma, no home button! If we believe the unbridled fantasies of case makers like Olixar, this below is close to what the
Galaxy S8 edge
should look like. The British accessory shop MobileFun often tips on upcoming phone designs based on the renders they receive from case makers on actual products to put in their database, and a lot of the time the images have turned out pretty similar to what actually gets announced later on.
Case makers like Olixar are often combining rumors, leaked schematics, and general guesswork to design their wares before the phone hits the shelves, but they sometimes also do have real scoops on the exact dimensions, so that might be how the Galaxy S8 ends up looking like. What we see is a very narrow bottom bezel, thanks to the
disappearance of the physical home key
, and LED flash/pulse meter combo placed way above the camera on the back. In addition, the render depicts a curved Dual Edge display (duh).
The wallpaper is also pretty intriguing, as it shows a stylized number 8, similar to the blue 7 that is shown in official renders of the
S7
and S7 edge phones, so that's not improbable, too. Take these case maker tips with a grain of salt, as sometimes they are simply ways to attract attention to the brand, but in other instances their renders have been based on some legit research, so the Galaxy S8 edge may very well end up looking similar to this graphical work.
Recommended Stories