$7 billion Sharp display factory may be built in the US to supply Apple, says Foxconn CEO
11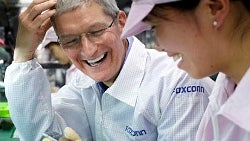 Back in February last year, Foxconn's CEO Terry Gou nailed another jewel for the crown -
Sharp's struggling business
, for the hefty sum of $3.8 billion. Sharp does have some unique screen technologies to offer, like its power-sipping
IGZO display chemistry
, and is also making a foray into the
OLED display panel production
.
While it has still not scaled the OLED sector to the quality and quantity required by Foxconn's largest customer - Apple - it will be slowly getting there, and a first step in that direction is a brand shiny new display plant that
Foxconn aims to build for it
. That factory is now heavily rumored to be built in the US, according to Nikkei, which cites Terry Gou himself, speaking at a celebratory press event in Taiwan yesterday.
The screen facility is expected to cost $7 billion, and create between 30,000 and 50,000 jobs in the US. Another one - a molding factory - is said to land in Pennsylvania, whose state officials have actually been present at the party in Taiwan. Back in December, Foxconn's business partner Masayoshi Son, head of Japan's SoftBank which owns Sprint, has had a chat with Terry Gou before he met with Donald Trump, and promised another $50 billion of investments in the US.
Apple's CEO Tim Cook and other tech execs also
met with President Trump
before he swore into office, and part of the talks rotated around his pledge to "buy American, hire American," luring the companies with potential tax breaks and other incentives if they bring some of their manufacturing back in the US. Apple is said to release an
OLED iPhone 8
this year, and will reportedly source the bulk of the panels needed
from Samsung
, but is looking into procuring its own supply further down the road. Thus, Foxconn's rumored $7 billion screen facility would jibe nicely with Trump's campaign promise to bring manufacturing back to America, and get Apple off the administration's crosshairs for the foreseeable future.