Samsung officially unveils Galaxy S5 mini: 4.5" Super AMOLED screen, water resistance and finger scanner
39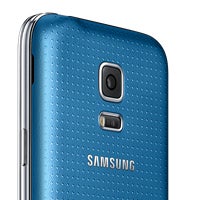 The
Samsung Galaxy S5 mini
is now official. The more compact sibling of the flagship Galaxy S5 comes with a 4.5" 720p Super AMOLED display, a 1.4GHz quad-core processor, and an 8-megapixel camera.
It's also retained most of the great new features of the Galaxy S5: the fingerprint scanner, the heart-rate monitor on the back, and even software touches like the great Ultra Power Saving Mode (UPSM).
The Galaxy S5 mini is shaped in the same design language as the S5 with the perforated soft-touch back, and it is also water and dust protected with IP67 certification, meaning that the phone is dust protected and can withstand being submerged in water up to 30 minutes in a depth of up to 1 meter (3.3 feet). You get four color options from the start: Charcoal Black, Shimmery White, Electric Blue and Copper Gold. Being a phone with a 4.5-inch screen, the S5 mini is also fairly compact and easy to use with one hand. It is not too slim, nor too thick at 0.36" (9.1mm) body girth and weighs a fairly light 4.2 ounces (120g).
Under the hood, we seem to have the usual duality of models. Some markets will get the 4G LTE-enabled Galaxy S5 mini, which likely runs on the Snapdragon 400 system chip, while others will get a non-LTE version, powered by Samsung's own Exynos 3470. Both models also have plentiful 1.5GB of RAM for efficient multitasking. Internal storage comes in at 16GB and you can expand on that via microSD cards of up to 64 gigs. The battery on it is a 2100mAh one, and it is easily removable. It's also worth pointing out that the S5 mini will have a dual SIM model in select markets.
With Ultra Power Saving Mode, finger scanner and water resistance, the S5 mini looks like a true 'mini' flagship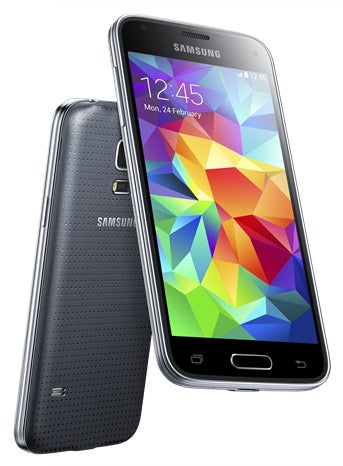 In terms of connectivity, the Galaxy S5 mini has Wi-Fi 802.11 a/b/g/n, Bluetooth 4.0 LE, USB 2.0, A-GPS + GLONASS, and an infra-red beamer, plus the LTE version will also have NFC.
The handset also houses an 8-megapixel auto-focus main camera with a single LED flash on the back, while on the front there is a 2.1-megapixel shooter.
Given that the this new mini will launch shortly, in early July, it is no surprise that it is running on Android 4.4 KitKat, as the new Android L will not be available on devices until the fall. Good news, however, is that the TouchWiz-infused version of Android in the S5 mini will support features so far seen only on the Galaxy S5, like the Ultra Power Saving Mode that prolongs your battery longevity.
The S5 mini global release date is allegedly set for mid-July, and S5 mini price is set at €479 in Europe (the equivalent of $650).

Samsung Launches Compact, Stylish Galaxy S5 mini Smartphone
Third generation mini device provides the optimal synthesis of design and performance from the flagship Galaxy S5

SEOUL, Korea – July 1, 2014 – Samsung Electronics Co., Ltd. today announced the Galaxy S5 mini, a compact version of Samsung's latest flagship smartphone. The Galaxy S5 mini delivers powerful performance, as well as the same dedicated fitness tools and enhanced device protection features found in the stylish Galaxy S5.
"We always strive to develop devices that appeal to a range of consumer tastes and styles," said JK Shin, CEO and Head of IT & Mobile Communication at Samsung Electronics. "The Galaxy S5 mini allows consumers to enjoy the iconic design and essential and useful features of the Galaxy S5 through a maximized minimalism approach."
Galaxy S5 mini continues Samsung design legacy and flagship experience
Outfitted with a 4.5-inch HD Super AMOLED display, the Galaxy S5 mini delivers a wide and vivid viewing experience, and its compact size provides users with additional comfort, allowing for easy operation with only one hand. Like the Galaxy S5, the Galaxy S5 mini features a unique perforated pattern on the back cover creating a modern and sleek look, along with a premium, soft touch grip. The Galaxy S5 mini enables users to enjoy the same flagship experience as the Galaxy S5 with innovative features including IP67 certification, Ultra Power Saving Mode, a heart rate monitor, fingerprint scanner, and connectivity with the latest Samsung wearable devices.
Powerful Samsung performance in a compact, portable device
The Galaxy S5 mini comes equipped with a powerful Quad Core 1.4 GHz processor and 1.5GM RAM for seamless multi-tasking, faster webpage loading, softer UI transition, and quick power up. The high-resolution 8MP camera delivers crisp and clear photos and videos, while the Galaxy S5 mini's support of LTE Category 4 provides users with ultra-fast downloads of movies and games on-the-go.
The Galaxy S5 mini will be available in Russia starting in early July and is planned to expand to global market. At launch, the device will be available in four color options: Charcoal Black, Shimmery White, Electric Blue and Copper Gold.
Full details and product images are available at www.samsungmobilepress.com.

* All functionality, features, specifications and other product information provided in this document including, but not limited to, the benefits, design, pricing, components, performance, availability, and capabilities of the product are subject to change without notice or obligation.
* User memory space may be less than the total memory space due to system files. User memory may differ by region, carrier, and supporting language, and may change after software upgrade.
About Samsung Electronics Co., Ltd.
Samsung Electronics Co., Ltd. is a global leader in technology, opening new possibilities for people everywhere. Through relentless innovation and discovery, we are transforming the worlds of TVs, smartphones, tablets, PCs, cameras, home appliances, printers, LTE systems, medical devices, semiconductors and LED solutions. We employ 286,000 people across 80 countries with annual sales of US$216.7 billion. To discover more, please visitwww.samsung.com.