Samsung may enlarge the Galaxy S8 screen, in an effort to accommodate former Note 7 fans
22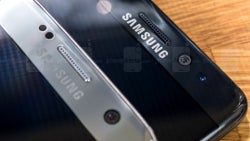 There was a rumor a few days ago that Samsung will
go edge-to-edge
with its
Galaxy S8
displays, raising some eyebrows with claims that there will be two models, with 5.7" and 6.2" panels. These are huge increases from the current 5.1" on the Galaxy S7, and the 5.5" on the S7 edge, but there is a catch.
The source then went on to explain that the panels will be curved towards the edges, and the home key/finger scanner
will be embedded
, so the S8 models may ultimately fit in a footprint not much larger than what we have now with the
S7
and
S7 edge
.
Today, we get another rehash of this speculation in Korean media, with the added claim that Samsung is pushing to enlarge the S8 screen further from what it planned, in order to accommodate those disappointed by the
Note 7 recall
. "
In order to attract potential Note consumers who prefer a large screen, Samsung has decided to adopt bigger screens for both new models of the S8,
" according to a local analyst quote.
The larger model is allegedly not named just yet, but Samsung is supposedly leaning towards a "Plus" moniker. Where all that leaves the eventual
foldable phone
that was rumored to appear alongside the S8, is anyone's guess at this point.