Foldable phones with artificial muscle, multiple hinges and push interface patented by Samsung
4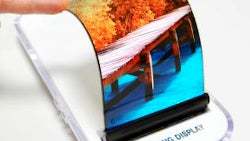 The
Note 7
might herald the first major flagship line available with a
curved display only
, all rumors indicate, but that's not the watershed moment Samsung is gunning for when it comes to flexible AMOLED screens. That one is reportedly the foldable X phone, codenamed "
Project Valley
," which Bloomberg said should appear next year, likely to be announced around MWC time in the spring.
There are said to be two models in the works by Samsung - one that folds in two like a cosmetic compact, leaving the hinge crevice where the charger might plug exposed, as you see in the last patent diagram below, and the other allegedly unfolds to become an 8" tablet from a 5" phone. But to bend and unfold ourselves, that's too much trouble, ain't it?
Well, Samsung might have an answer for this issue, too, as it patented another interesting idea - namely an "artificial muscle" that consists of small connected plates that shrink together when voltage is applied to fold the device, and relax to open it up, or do any combination of these for a fairly free shaping. Another tap on the patented imagination is the multiple hinges scenario, where the phone asks you which part you want to fold - this one could possibly be connected to the "artificial muscle" patent.
The last new patent filing relates to the actual interface advantages that may be derived from a foldable phone, like pushing slightly to bend the upper part and change the current app displayed from a clock to, say, a calendar (we'd assume this one is meant for the lock screen.) We can't wait to see which one of these will make it to the final Project Valley devices that will potentially be unveiled next year.