Samsung's foldable smartphone might be coming earlier than expected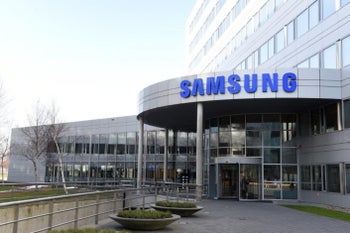 2019 is expected to bring a breath of fresh air when it comes to smartphone designs, by introducing foldable screens. A few companies are
expected to have a shot at it
, but the most anticipated one is coming from Samsung. New information has now surfaced, that Samsung is aiming at an early 2019 launch of the rumored device,
hoping to beat Huawei
as the first company with foldable smartphone on the market.
Sources close to the Wall Street Journal have shed some more light on the project. According to the unnamed informants, the device will have a close to 7-inch display. While that's not much more than current large smartphones, the aspect ratio of the foldable phone (likely close to 4:3) will provide a significant increase in screen real estate.
The smartphone will fold in half "like a wallet", the mysterious people said, and will have a small secondary display on the outside, presumably to show you the clock, notifications and other useful information while closed. The main camera (or cameras) will be on the other half of the device.
Samsung has been talking about
making smartphones with foldable screens
since 2014, so we can't wait to actually see what they've come up with and how it will compare to what other manufacturers have to offer.
If you want to be an early adopter of the new technology, be prepared to pay a
hefty amount of money for it
. The first generation is not only launching a new class of smartphones, but likely a new higher price bracket as well.
source:
The Wall Street Journal