Samsung to release smartphones with flexible displays that fold in half by end of 2015
27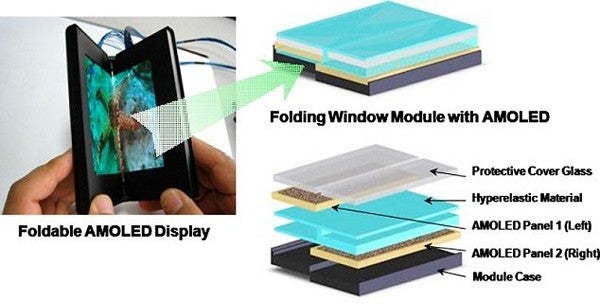 According to the IDC, Samsung's market share dropped sharply in Q2 2014 to 24.9%, down from 32.2% in Q2 2013. Most analysts agree that this mostly has to do with the success of Chinese manufacturers, who, until recently, weren't really that much of a factor in the global rankings.
To counter, Samsung has already made it clear that it'll be adopting a two-pronged approach. It'll start by moving things around with its low- and mid-range line-ups by positioning them at even lower price points whilst, at the same, reducing the ridiculous number of different models available (up to 30% less), and work on keeping its premium handsets unique by incorporating tech that is either hard or impossible for competitors to mimic. If you've been keeping tabs on Samsung the last few months, you'll know that advanced display solutions are something the company has been working hard on – we've seen it first with the
Galaxy Round
, and now, with the
Galaxy Note Edge
. The next step, however, is to produce smartphones with displays that fold in half.
You read that right – according to Lee Chang-hoon, the VP of Samsung Display's business strategic team, who spoke at the Samsung Investor Forum 2014 in New York, the company "
will secure production capacity of 30,000 to 40,000
" foldable displays per month by the end of 2015. Chang-hoon says that the current plan is to bring a consumer-ready device with a foldable screen by next Christmas, and continue ramping up the company's production capabilities well into 2016.
Lee also says that Samsung Display is working on lowering production costs associated with the manufacturing of AMOLED displays in order to better compete with LCD solutions which are comparatively cheaper. Apparently, the hope is for the company to reach a 50:50 ratio – or half of the panels that come off the conveyor belt should go to outside accounts.
We'll have to wait and see if Samsung's plans will work out and if the behemoth company will be able to pull out of the quicksand.