Samsung expects record breaking sales for the Galaxy S6
99+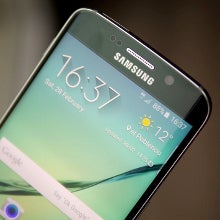 Samsung has high expectations for its just unveiled flagship phone, the
Samsung Galaxy S6
. According to Andy Tu, GM of the company's mobile operations in Taiwan, Samsung feels that the new model can break the company sales record currently held by the
Samsung Galaxy S4
. The latter sold 16 million units in its first three months of existence. The
Samsung Galaxy S5
dropped off to 12 million units sold after its first three months. It was this decline that led Samsung to rebuild its flagship handset from scratch this year.
According to Tu, starting next quarter Samsung will focus its marketing on the Samsung Galaxy S6, the
Samsung Galaxy Note 4
and mid-range Samsung Galaxy A and E series handsets. The Samsung Galaxy S6 and
Samsung Galaxy S6 edge
will both launch on April 10th.
After a few years of complaints about the plastic build of the Galaxy S models, Samsung's
Project Zero led to a redesign of the entire device
. Now, the phone is comprised of a metal build sandwiched by two glass plates protected by Gorilla Glass 4. While there is no question that the phone puts out a more premium vibe, this focus on form over function has forced Sammy to make some big changes to the Galaxy S6. The removable back cover and battery are no more. Once touted by Samsung as a reason to pick its phone over the Apple iPhone, Galaxy S6 users can no longer swap out the battery for a freshly charged cell. In addition, the microSD slot has also become a victim to design. Those purchasing the Galaxy S6 will choose from models loaded with 32GB, 64GB and 128GB of native storage.
There are some improvements, of course, as the battery will charge 50% faster than the cell on the Galaxy S5. The 16MP rear camera has an aperture of f/1.9, great for low-light shots, and features OIS. An octa-core Exynos 7420 is under the hood of the new model, which has 3GB of DDR4 RAM. There is also native wireless charging capabilities on the Galaxy S6.
What isn't clear is whether Samsung plans on counting sales of both the Galaxy S6 and Galaxy S 6 edge as one figure. Since Samsung does have a rather ambitious target, it is quite possible. Regardless, the company is hoping that the changes it made will not only break company records, but also beat out the just introduced
HTC One M9
and the upcoming
LG G4
in the U.S. In other markets, Samsung will also have to contend with flagship models from low-cost Chinese manufacturers like Xiaomi.
source:
Digitimes