Samsung bringing its flexible and transparent AMOLED displays to CES next week
9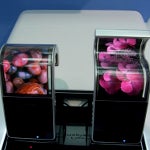 Samsung's Mobile Display division will be at
CES next week
to show the fruits of its labor, and it is certainly going to be exciting. After stunning us with the Super AMOLED screen on the
Samsung Galaxy S
, which immediately turned into the phone's most distinctive feature. Samsung will also feature a
7" Super AMOLED screen
with 1200x600 pixels of resolution - probably the largest it can currently mass produce, before the new factory kicks in this summer.
AMOLED's other qualities
, like simplified circuitry, allowing for screens you can bend with your two fingers to half inch radius? Fret not, Sammy is bringing such a wonder as well - a 4.5" flexible AMOLED display, and, unlike the previous 240x400 pixels attempts, this one sports a quite decent 480x800 resolution.
Samsung says that ghosting is almost negligible on the flexible display with 0.4" (1cm) radius. The screen has a quick response time, low power consumption, and a thin profile. The usual rigid glass substrate is swapped for a special plastic one, with some of the technology coming from the Galaxy S's screen. The existing plastic substrates melt at 350-400 degrees, so no circuitry could be implemented in them.
To top it all off, Samsung Mobile Display will let us literally peak through a 19" transparent AMOLED screen, which sports 30% transparency. Not only is the size the biggest so far, but the transparency level is also incredible - three times what was possible so far. Numerous applications come to mind, but the one most appealing to us is as HUD displays in our cars' windows, now that would be sci-fi finally coming true. A 14" transparent display will also be demonstrated, destined for laptops and the like.
We will be on the floor at CES next week, so we should know more about these puppies pretty soon.
source:
OLED-Display