Samsung and LG reportedly monitoring how Amazon's Fire phone can affect the smartphone market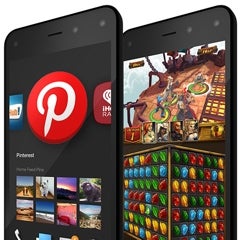 According to a report from Korea Times, both Samsung and LG are seeing
Amazon's new Fire phone
as a possible threat to their smartphone business, as the handset offers not just the benefits of a smartphone platform, but also a quick and easy way to shop online (thanks to the new
Firefly feature
).
The Korean publication has it that Samsung and LG - South Korea's largest handset makers - are "monitoring how the Fire phone will affect the smartphone industry." Of course, for now it's too early to tell if Amazon's first phone will be a success, or
a game changer
, as the device isn't going to be released before the end of July. Even so, a Samsung Securities analyst was quoted as saying:
"With promoting three caterpillars - distribution, content and cloud - the emergence of the Amazon phone will threaten the Korean companies. If you underestimate the effects of the Amazon mobile, it will be a mistake."
We're pretty sure that Samsung and LG don't underestimate Amazon, and will know how to respond to the challenges that the US-based company may bring to all current top smartphone makers.
Korea Times erroneously notes that the Amazon Fire phone has a "low off-contract price." In fact, the handset's price is definitely not low, neither off-contract (starting at $649), nor on contract (starting at $199).
Earlier this week, Taiwanese media suggested that
Amazon could ship 2 to 3 million Fire phones
before the end of the year. After the Fire phone, Amazon might want to launch other smartphones, not just in the US - but that remains to be confirmed.