This new Samsung Gear S3 deal is not that great
4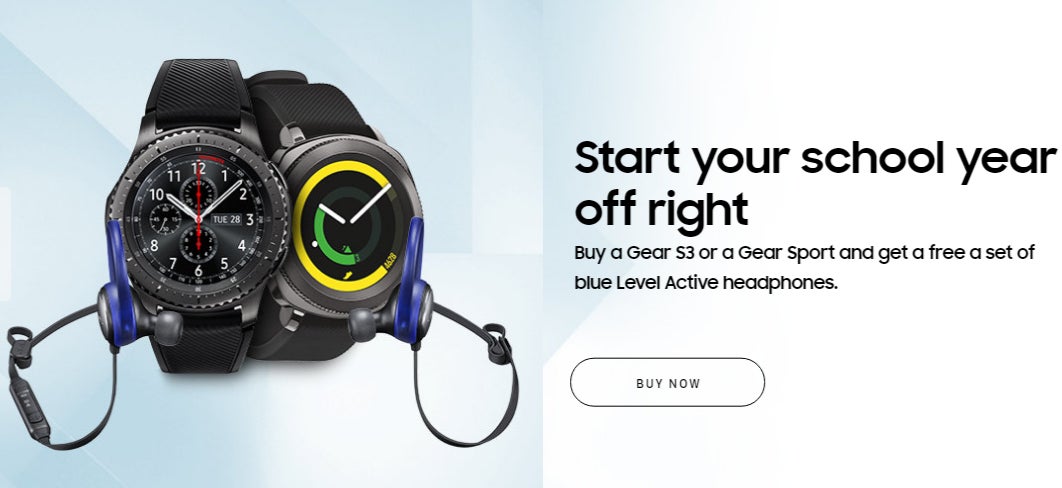 Starting today, July 29, Samsung has a brand new deal involving its Wi-Fi-only Gear S3 Classic, Gear S3 Frontier, and Gear Sport. All these smartwatches now come with free Samsung Level Active earphones, which
normally
cost $79.99. While this may look like a pretty great deal, it's not. We'll explain why below.
The blue Level Active earphones that Samsung is giving away with its watches
currently cost just $19.99
. And there are no price cuts on the watches themselves - you have to pay $349.99 for a Gear S3, or $299.99 for a Gear Sport. So all you're getting from this deal is a free pair of earphones worth $20.
Until yesterday, July 28, the Gear S3 Classic and Frontier were
sold by Samsung for $279.99
($70 off the regular price), while the Gear Sport was offered for $249.99 ($50 off). Also, over the weekend, the Gear S3 was
$70 off at Best Buy
and
came with a $100 gift card. Obviously, those deals were much better than the one unveiled today.
Given how frequent
Gear S3 and Gear Sport deals
have been lately, it's very likely that a better offer will be available soon. Moreover, a new and superior
Samsung Gear S4 / Galaxy Watch
series will be announced next month - a good reason for us to expect (maybe permanent) price cuts on Samsung's current smartwatch lineup.
Now, if you simply must purchase a Gear S3 or Gear Sport right away (instead of waiting for a better deal), we can't stop you. The smartwatches can be found at Samsung via the source link below.