Galaxy S8 and S8+ price and release date on Verizon, AT&T, T-Mobile, Sprint
47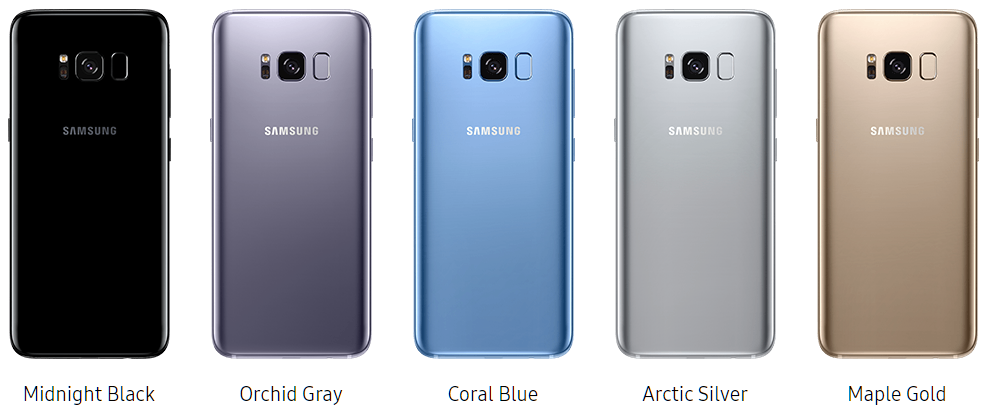 Samsung, what did you do? The newly-announced
Galaxy S8
and
S8+
sports nearly the screen-to-body ratio of the current record holder, the
Xiaomi Mi Mix
, meaning that they are almost bezel-less, but Samsung didn't stop here with the design advances. It ditched the archaic physical home key that has been a staple on the S-line since its inception, and abolished the flat screen version for very moderate display curves that give the new flagships a certain aesthetic appeal above all else.
The screen also comes in the futureproof 18:9 aspect ratio, covering the trendy
Univisium
standard that is taking the movie and TV series world by storm, and will give you taller, narrower phones that will be easier to hold and operate with one hand. Samsung didn't stop with the design, either, but outfitted the Galaxy S8 and S8+ with the first 10nm chipsets in a retail handset - the Snapdragon 835 and Exynos 8895 - and increased the base internal storage to the whopping 64 GB, from half that size before.
How much for all that jazzy innovation, though? Well, flagships this year will be more expensive than their predecessors, on account of their design overhauls, as
exemplified with the LG G6 already
, or with the rumored
$1000 starting tag for the OLED iPhone 8
. The Galaxy S8 and S8+ won't be bucking the trend, it seems, but rather come at about a Benjamin more than their predecessors
S7
and
S7 edge
at launch. Preorders start tomorrow, while Samsung is going to release the phone en masse on April 21st.
The Galaxy S8 and S8+ will both be available to preorder starting promptly at 12:01AM EDT, March 30th, at AT&T, Verizon, T-Mobile, Sprint, Cricket Wireless, US Cellular, Straight Talk Wireless. When it comes to pricing, the S8 should start at $720-$750 with those carriers, while the S8+ tops up at a $100 more, for the hefty $840-$850. You do get perks with early ordering like a free Gear VR with a controller, though. Any takers?
Device
Payment
Verizon
AT&T
T-Mobile
Sprint

Galaxy S8

Installments
$30 / 24mo
$25 / 30mo
$30 upfront + $30 / 24mo
$31.25 / 18mo
Full price
$720
$750
$750
$750

Galaxy S8+

Installments
$35 / 24mo
$28.34 / 30 mo
$130 upfront + $30 /24mo
$35.42 / 18mo
Full price
$840
$850
$850
$850
Pre-order bonuses
Free Gear VR with Controller and Oculus content pack OR $99 "Experience Box" with Gear VR and Controller, Harman Kardon headphones + 256GB microSD card
Free Gear VR with controller and Oculus content, BOGO, and deals on Gear S3 and Tab E
Free Gear VR with controller and Oculus content
Free Gear VR with Controller and Oculus content pack OR $99 "Experience Box" with Gear VR and Controller, Harman Kardon headphones + 256GB microSD card
Pre-order here
Link
Link
Link
Link