Samsung Galaxy S7 vs S7 Edge: first look
32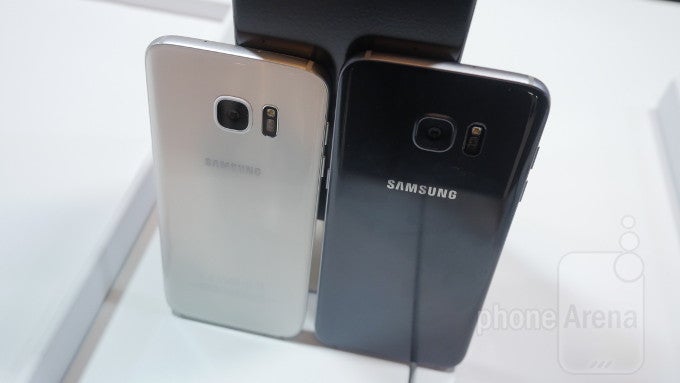 The Samsung
Galaxy S7
and
Galaxy S7 Edge
are like to siblings: they look pretty much the same, but they have some important differences.
What are those? Let's find out.
Design and Display
The size contrast is the key difference here: the S7 Edge is noticeably taller (150.9mm vs 142.4mm) and slightly wider (72.6mm vs 69.6mm) than the S7, but curiously enough it's a hair thinner (7.7mm vs 7.9mm).
The little details matter, Samsung claims, and it's the little details that are taken care of on both phones: both have similarly curved back glass towards the edge as it flows into the side and fits comfortably in the hand. Still, given that they are both made of glass they catch quite a bit of fingerprints as well.
The screens? They are gorgeous: both the 5.1" S7 and 5.5" S7 Edge are Super AMOLED with Quad HD (1440 x 2560) resolution.
Android 6 and new TouchWiz
With Android 6 Marshmallow comes a new edition of TouchWiz and... mostly, the interface retains the same in terms of looks.
Speaking of major features, both the S7 and S7 Edge have the same: Android 6 brings Doze for further battery improvements, new notifications interface and individual app permissions management.
Then, there are the details: both phones have always-on display that can be customized to look truly awesome and since this is an AMOLED display, only individual pixels light up to show it, so it's light on battery use.
The big feature the S7 Edge has that the S7 lacks is the Edge interface, of course. With two rows of icons and - most importantly - open access to it to third-party apps, it's become a much more useful space.
Performance and memory: Snapdragon 820 all the way
Since both the S7 and S7 Edge run on the Snapdragon 820 in the United States (there is an international version features the similarly powerful Eynos 8890 system chip), there are no differences between them in terms of performance.
Both are at a perfectly equal playing field: the Snapdragon 820 with 4GB of LPDDR4 RAM, and 32GB of internal storage. MicroSD cards are back on both and you can use the hybrid SIM card slot to augment the 32 gigs allowance. Keep in mind that in the US only the 32GB version for both will be on sale, while in other markets, a 64GB version will also be offered. Samsung has also moved to the much faster UFS 2.0 storage from the NAND chips it used in the Galaxy S6.
Camera
Camera, camera, camera: this was a major part of the hype around the S7 and S7 Edge. Both feature the same new, 12-megapixel camera with larger individual pixels and the widest ever lens on a Samsung phone at f/1.7. This together results in huge improvements in the amount of light that you get in pictures, and images do indeed turn out lighter in dim conditions for both phones. The two both support optical image stabilization (OIS) as well.
Of course, with absolutely identical cameras, image quality on the S7 and S7 Edge is identical.
The cool features that are worth mentioning are a new
motion
panorama that animates your static panoramas with movement, then there is motion picture, similar to Apple's live photo, and a cool new hyperlapse video recording mode built in the camera app. Video can be recorded at up to 4K resolution at 30fps on both.
Battery
Both phones have larger than typical batteries, and Samsung has really gone all out here. Yes, at close to 8mm both are a hair thicker than iPhones, but we would definitely not say they look thick.
Quick Charging is naturally on board and so is
wireless charging
, but the cool new reversible USB Type-C has not made it to the S7 and S7 Edge, and instead the pair features a microUSB port. Finally, we should also say that the batteries are not user-removable.
Other features: water protection
Samsung has really pulled some clever engineering on both the S7 and S7 Edge with IP68 water protection that guarantees your phone won't get damaged even if you put it in up to 3 feet deep fresh water for as long as an hour. Not that Samsung recommends you do it - it says the phone is protected against accidental spills.
In order to pull this off, the company has managed to isolate the microUSB port so that it is water-protected, but without the annoying protective flaps that were used in the Galaxy S5.
Expectations
All in all, the Galaxy S7 and S7 Edge are two nearly identical siblings: the main difference between the two is the different battery size, Edge functionality and screen size. If you like the cool new Edge features and prefer a larger phone, the S7 Edge would be the way to go, for lovers of more compact phones, the Galaxy S7 will be a great fit.