Samsung Galaxy S7 vs LG G5 blind camera comparison: vote here
84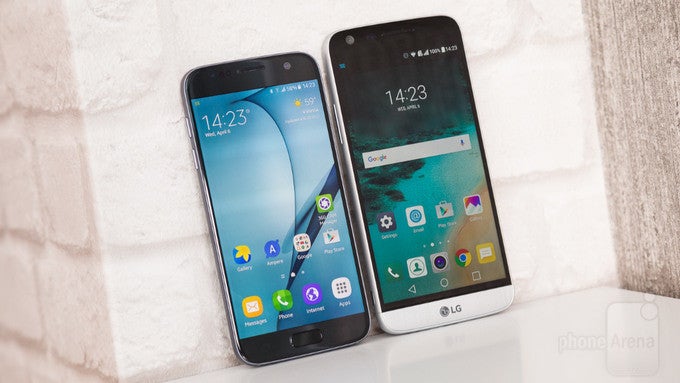 Voting in this blind camera comparison is closed.
It's a day that's going to come, that's for sure. Our grandkids will look back at the dumb and rotary phones we once used and will wonder what kind of phones those were when they couldn't even take photos. But that's the reality we live in – for a great fraction of today's users, a phone is only about as good as its camera. That's probably why our camera comparisons get so much attention from our readers.
By now you can surely see where things are going. Yup, it's camera comparison time, and today's one-on-one clash is going to be a fierce one. In the left corner, wearing a curved glass outfit with a metal trim, is the
Samsung Galaxy S7
. We're already quite familiar with its 12MP camera and we know that it's a great one. But in the right corner stands a very capable opponent – the LG G5, which packs a 16MP main snapper.
We've decided that today's camera comparison is going to be of the blind variety. In other words, we're about to present you with a set of images taken with the Galaxy S7 and the LG G5 under conditions as identical as possible. The cool part is that you'll get to join the fun! Your job is to take a look at the photos side by side and to vote for the one you like better, without actually knowing which of the two phones took it. Don't bother looking at the images' EXIF data. It has been already wiped to avoid spoilers. That said, here are the photos you'll be voting on.
A separate gallery containing high-resolution version of the image pairs is available at the bottom of this post.
Scene 1: Relax room
< LG G5 (Photo A)
Galaxy S7 (Photo B) >
Scene 2: Burning rubber
< LG G5 (Photo C)
Galaxy S7 (Photo D) >
Scene 3: Stellaria Holostea
< Galaxy S7 (Photo E)
LG G5 (Photo F) >
Scene 4: Red Tulips
< Galaxy S7 (Photo G)
LG G5 (Photo H) >
Scene 5: Office hours
< LG G5 (Photo I)
Galaxy S7 (Photo J) >
Scene 6: Toys in the dark
< LG G5 (Photo K)
Galaxy S7 (Photo L) >
In case you want to take a closer look at any of the photos above, we've included high-resolution samples in the gallery below. Note that the images below are 50% smaller in size than the originals.