Samsung Galaxy S7 dummy in shiny gold caught on camera
23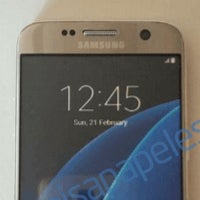 With just 11 days left to
Samsung's Unpacked 2016 event
– the time when we will get to see the new Galaxy flagship smartphones. Well, officially, that is. As one might expect with such high-profile handsets, leaks and rumors have already pretty much spoiled the surprise. We've already seen alleged photos of the
Galaxy S7's back
and
Galaxy S7 edge's front
, and now, we get an even better look at an S7 unit in gold finish.
Just a quick recap before we get to the picture goodness. After many speculations about the possible introduction of four different Galaxy S7 models (the "regular" ones and two "plus" variants on top), the rumor mill has settled down a bit and numerous reports now reaffirm that Samsung will launch only two models – a 5.1-inch "regular" Galaxy S7 and a 5.5-inch Galaxy S7 edge (apparently, there will be no "plus" moniker). Obviously, the devices will come in different finishes, but we've no idea on how many Samsung has decided on. So far, we've seen photos and renders of the new Galaxies in black and
silver
, with this particular picture showing that the gold finish is going to be an option as well. As a reminder – last year's Sammy flagships came in "White Pearl", "Black Sapphire", "Gold Platinum", and "Silver Titanium". Additionally, the
Galaxy S6
had an extra "Blue Topaz" color, while the
Galaxy S6 edge
came with a unique "Green Emerald" finish.
Now, what we have on the photo below looks more like a realistic dummy, made for case makers and promotional materials, than an actual, functioning smartphone. Still, it looks pretty much like what we would expect the Galaxy S7 to be like, reaffirmed by numerous reports. If you haven't been following closely, you can check out our full rumor review for Samsung's S7 flagships
here
. Also, yesterday, the alleged stock wallpapers for the Galaxy S7 and S7 edge leaked, so be sure to
check them out
. In the gallery below, we've added the most accurate renders of the new Galaxies we could find on the Web, created in accordance with the latest rumors, just in case you wish to feast your eyes on them.