Samsung Galaxy S6 vs LG G4 in-depth loudspeaker comparison
17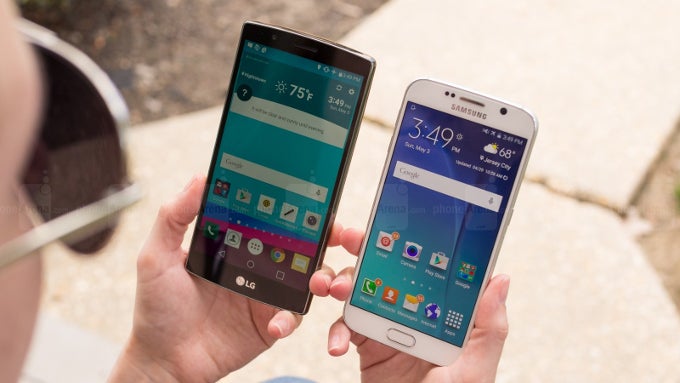 Well, folks, the
LG G4
has finally arrived in all its leathery goodness. And it's definitely landing on tough terrain – the Apple's
iPhone 6
hit the market with ferocity, and Samsung's
Galaxy S6
and
S6 edge
are definite head-turners. But the G4 isn't ready to give in. Packing a classy design of its own, a
very impressive camera
, and being one of the few remaining flagships to have a removable battery and expandable internal storage, LG's handset is sure to gain some traction of its own.
The Galaxy S6 and S6 edge have been out for a while and, sure enough, Samsung's
Project Zero
has apparently turned out to be a successful endeavor. The new flagships sure cross a lot of grief points that customers had with Sammy's top-shelf smartphones – starting with design upgrades, which finally boosted them in looks and feel, moving through
camera
improvements, and taking care of some of bloat around the interface, allowing for a more slimmed down version of TouchWiz.
So, both LG's and Samsung's giants look, feel, and work different, that's for sure. But how do they sound?
We went ahead and pitted the LG G4 vs the Galaxy S6 in our studio. As usual, we used a song with plenty of acoustic instruments (drums, acoustic guitars, fretless bass, piano, et cetera) for this test and loaded it up on both phones. For each recording, we placed our microphone about 2" from the speaker grille, with the holes facing opposite the mic - this eliminated some of the harshness of capturing small speakers, and gave us a better representation of how the phone itself would sound if you set it on a table, for example. Without further ado, check out the recorded comparison below. The first clip switches back and forth between both phone's playback, the other two slides contain a full playthrough of each smartphone.
As you can hear, there is quite some difference to the two speakers. The LG G4 delivers much more middle frequencies, making it sound a bit "flatter", but sometimes "fuller", without muddying up
like the HTC One M8
. The Galaxy S6 delivers a lot more punch in the high frequencies and has its mids scooped, so it is perceived as "clearer" sounding. Samsung's phone also sounds just a bit louder, due to the hump in the highs, but we are a bit disappointed to hear so much compression going on - when the snare drum hits, its attack causes all other sounds to "duck". The LG G4, on the other hand, does better at playing all instruments through its speaker.
We also ran a pink noise test through both phones. Pink noise is supposed to show a steady line on the spectrum analyzer, going at an even downwards diagonal from left to right. Now, seeing as our microphone, room, and other recording conditions would, naturally, introduce their own coloring to the results, we are not saying that the images below are fully representative of the speakers' actual qualities. They can, however, be used as reference to show how the phones sound when compared to one another. So, here are the slides:
The verdict
Both phones sound good, but will not make you put a Bluetooth speaker off your wishlist for sure. They are about equal in volume, with the Galaxy S6 being a smidgen louder. When one is given the two handsets for a quick test, the Galaxy S6's perceived clarity creates the initial illusion for a better sound. However, further tests, and actual listening experiences, will cause the user's ears to feel fatigued, as the highs can get harsh and annoying pretty fast. Also, the overcompression does the speaker no favors, as one is often able to hear sound ducking and loss of instruments from the mix.

The LG G4 may sound a bit "muffled" when compared to its opponent. However, listen to it on its own and you will be treated to a pretty even reproduction of all instruments in the mix. The compression is much less noticeable, and no frequencies pop out to repeatedly hammer our eardrums. Sure, its sound is just a bit "flat" and its volume barely surpasses the threshold for pleasurable media consumption, however, for this comparison, we'd have to say that the winner is LG's G4.