Samsung Galaxy S6 and iPhone 6s dominate our blind camera comparison, LG G4 and iPhone 6 – not as much
99+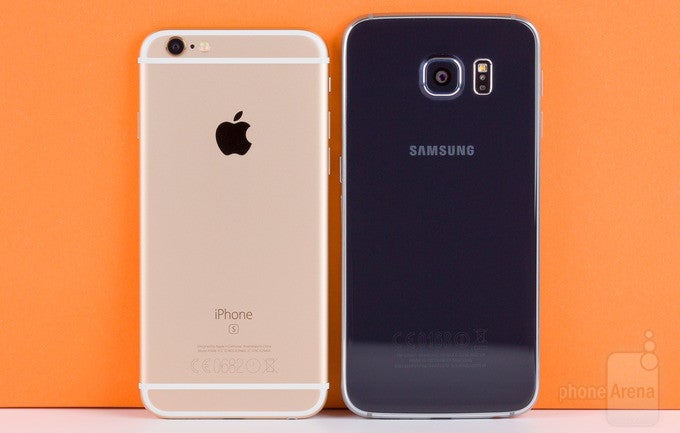 Boy, that iPhone 6s has a pretty good camera, doesn't it? We probably won't be far from the truth if we say it's one of the best smartphone cameras around. But its high-end rivals don't lag far behind and might even outpace it in certain situations. At least that's what we can walk away with after examining the results of last week's blind camera comparison.
Last week, we asked you to vote on 5 sets of images taken with the
iPhone 6s
, the
Galaxy S6
, the
LG G4
, and the
iPhone 6
. Votes alone rank the Galaxy S6 on top with a total of 4529 votes. By comparison, the iPhone 6s received 4270 votes, which is only slightly less. However, we must point out that the iPhone 6s took first place in three out of five scenes. The Galaxy S6 won in the other two. Therefore, the Galaxy S6 and the iPhone 6s are kind of tied in this round of our comparison. As for the LG G4 and the iPhone 6, they both performed well, but couldn't quite get as many votes as their rivals.
But we're not done with our camera comparison yet. Pretty soon, we'll take a look at how these phones perform in low-light and night situations, where shooting conditions are traditionally trickier. Until then, feel free to take a second look at the daytime samples from our comparison.
Final results:

Samsung Galaxy S6: 4529 votes (winner in 2 scenes)
iPhone 6s: 4270 votes (winner in 3 scenes)
LG G4: 2345 votes
iPhone 6: 1370 votes
Scene 1: Ahoy, matey!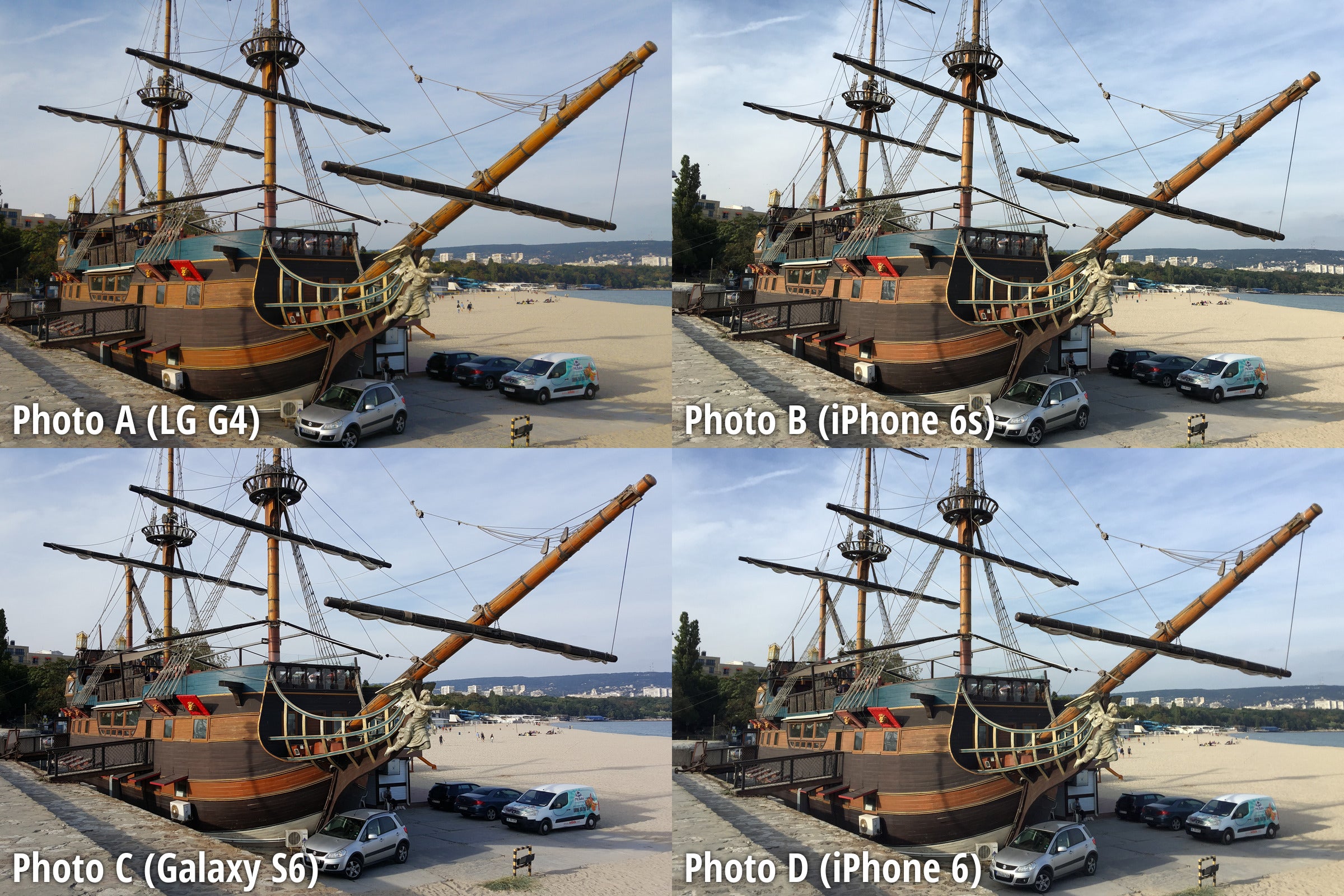 Side-by-side preview. Click to zoom in
Scene 2: Roses are red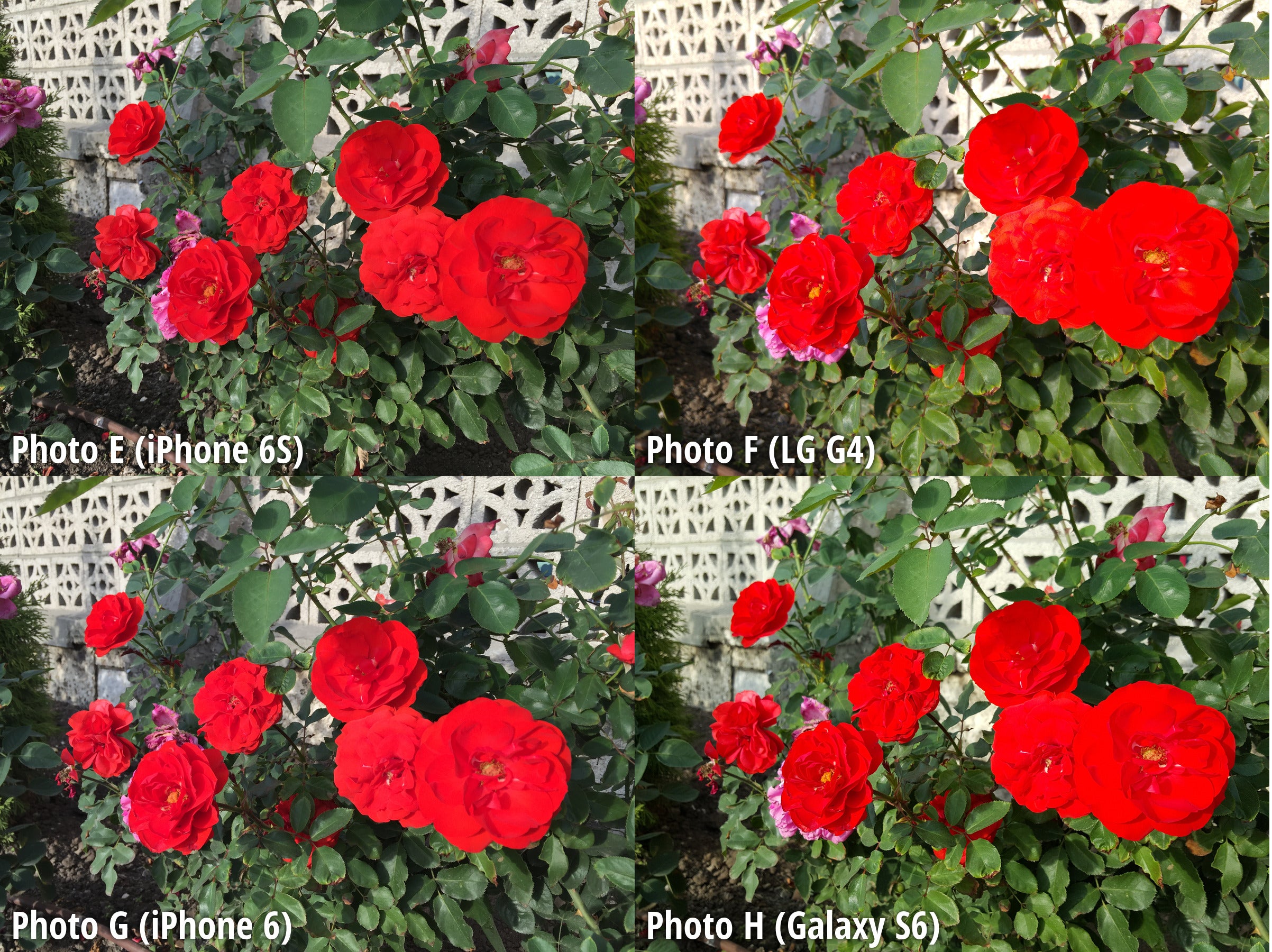 Side-by-side preview. Click to zoom in
Scene 3: The opera house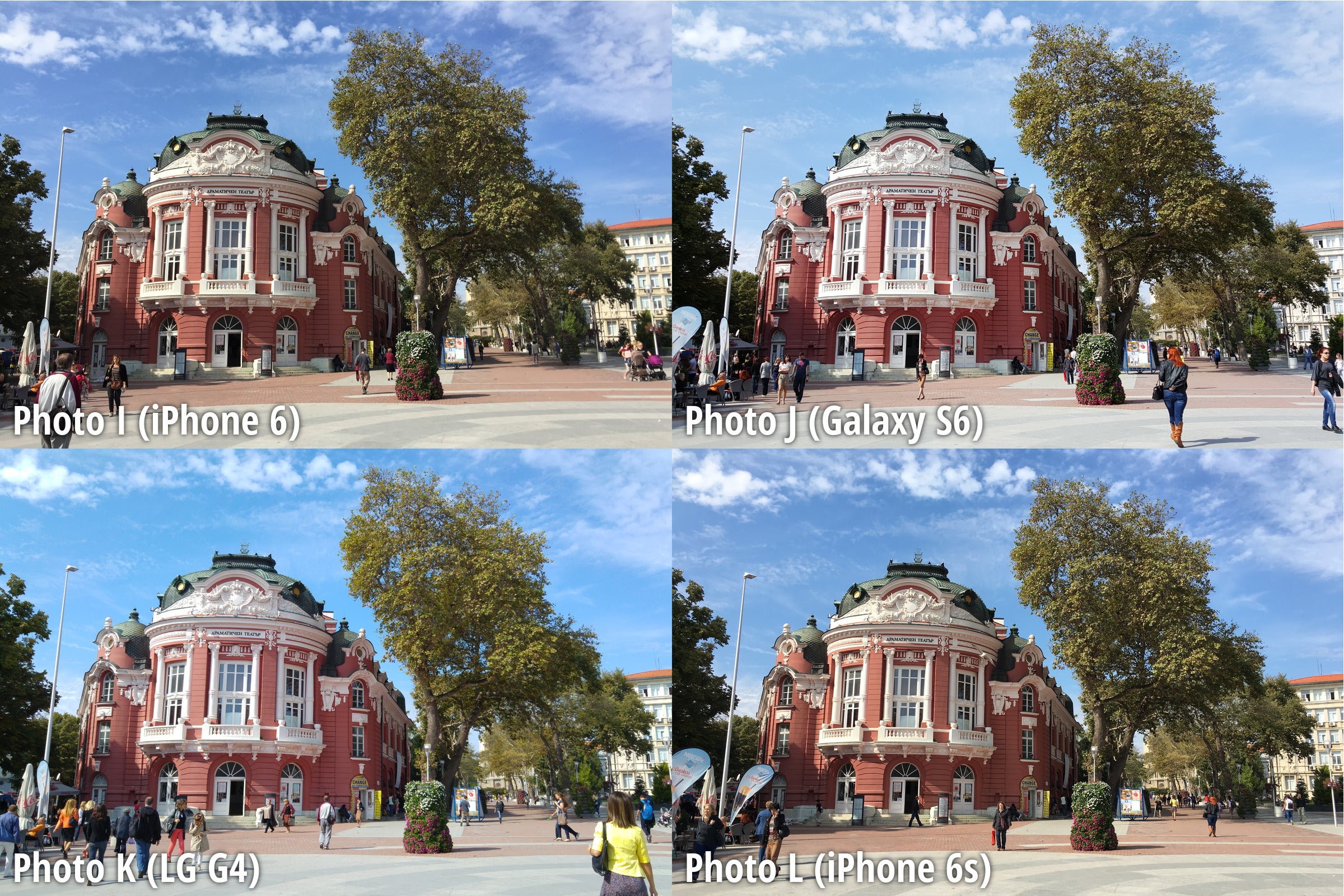 Side-by-side preview. Click to zoom in
Scene 4: The sun clock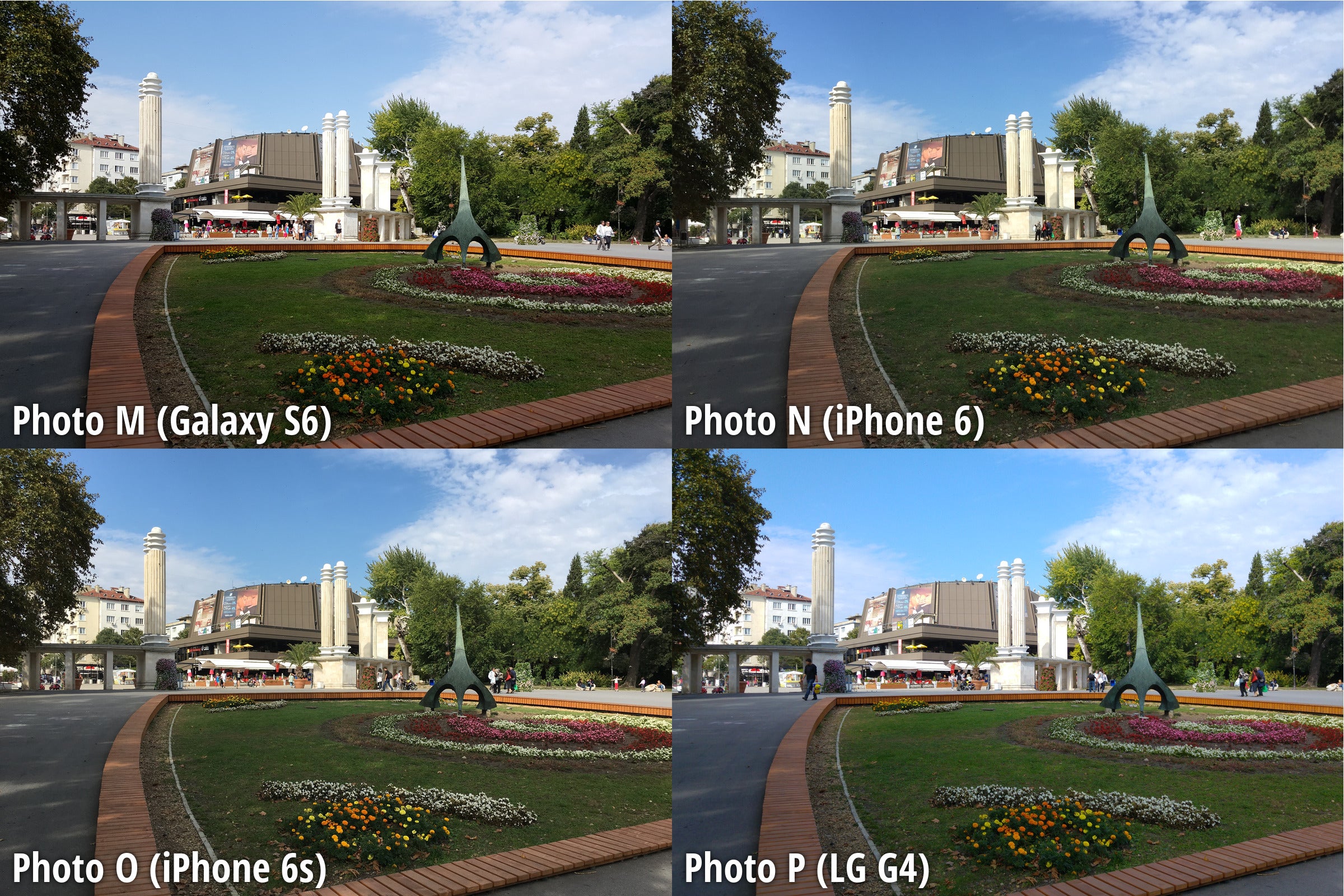 Side-by-side preview. Click to zoom in
Scene 5: Grand Hotel London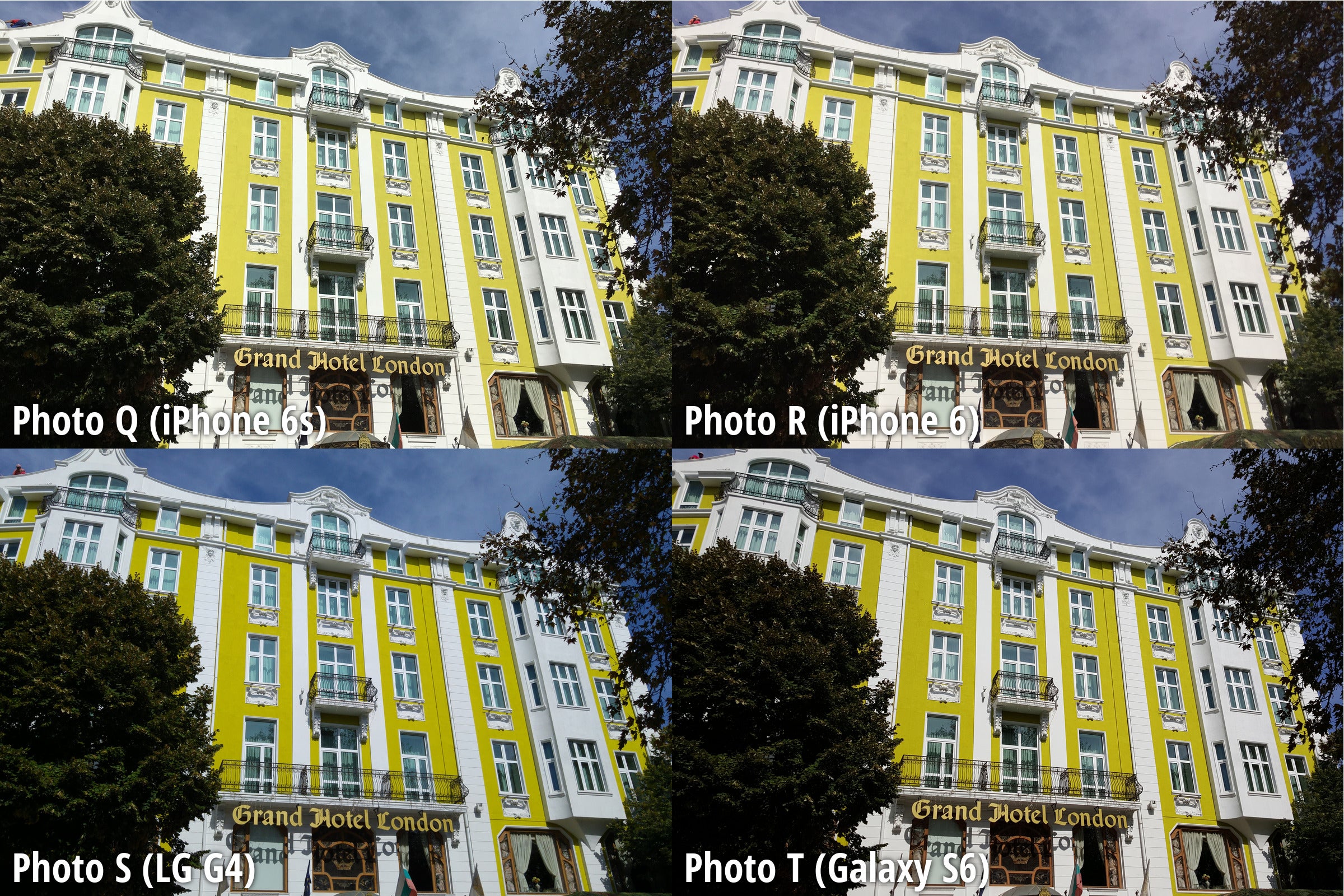 Side-by-side preview. Click to zoom in