Samsung Galaxy S5: deeper dive in the Diamond PenTile matrix reveals the secrets of the brightest AMOLED display
42

Samsung Display has just unveiled a lot of the
inner works of the new AMOLED display of the Galaxy S5
, but now we have even deeper insights coming from an ongoing dissection of the display by Chipworks.
Samsung has been using a
Diamond-shaped PenTile matrix since the Galaxy S4
, and while the Galaxy S5 also features a Diamond matrix, this time there are some slight, but noticeable modifications. Unlike traditional RGB LCD displays where each pixel is made out of a red, green, and blue sub-pixel, PenTile displays use less sub-pixels. In the Galaxy S4 we had diamond-shaped sub-pixels for the blue and red colors, and an oval-shaped green sub-pixel. In the Galaxy S5, all sub-pixels are now in the diamond shape, and that's the first change.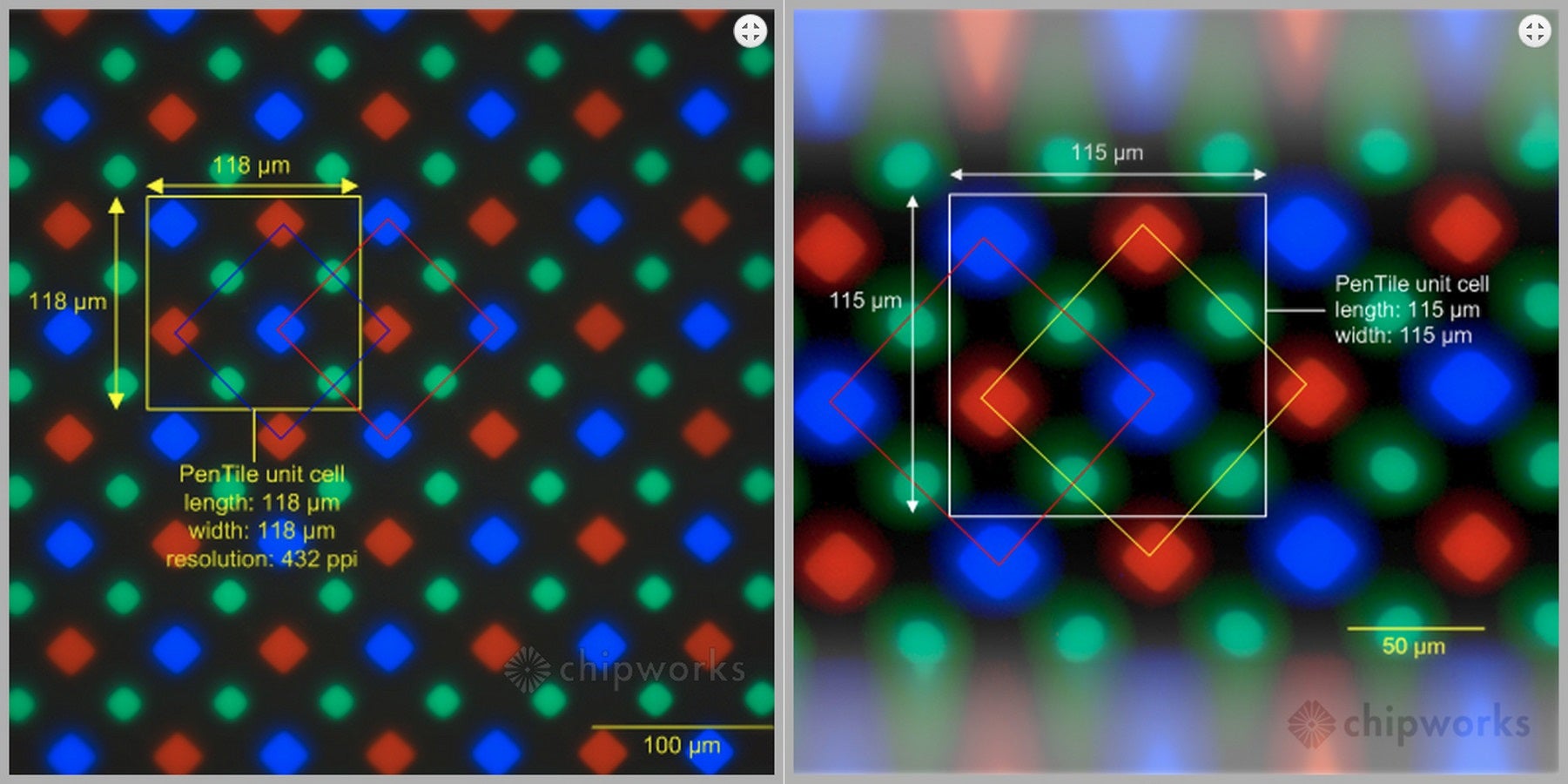 Diamond PenTile matrix on Galaxy S5 (left) vs Galaxy S4 (right)
The actual arrangement of the pixels has not changed from the S4 - in every 4 sub-pixel diamond shaped block, we have two green sub-pixels, one red and one blue sub-pixels. However, the actual size of the sub-pixels has changed. In the Galaxy S4, the blue sub-pixel was larger than all others by a huge margin, and it was assumed that this is because of the lowest emission efficiency. If that was indeed the reason, it seems that now, the Galaxy S5 has largely fixed such issues, as the blue sub-pixel now matches the red one in size.
This in turn, should have likely resulted in some changes in the OLED filters that Samsung uses. This is important, as this change might be the factor that allows for Samsung's huge breakthroughs in display brightness. Samsung says its Galaxy S5 is up to 47% brighter than the Galaxy S4 under ambient light, and
DisplayMate has measurued up to 25% boost in brightness under less challenging conditions
.
Right below you get to see an intimate close-up look of the Galaxy S5 display with its new Diamond pixel arrangement: mesmerizing, isn't it?