Samsung details its new Galaxy S5 display: the brightest, most efficient OLED screen to date can hit 698 nits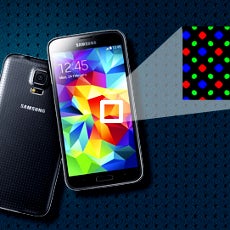 Samsung Display decided to elaborate on its claims that the 5.1" panel of the
Galaxy S5
is the best Super AMOLED display it's put in flagships so far. Hot on the heels of the
pros at Displaymate concurring with that assessment
, Samsung Display issued a blog post explaining the main reasons why.
First off, they confirm the so-called "Diamond" structure for the arrangement of the subpixels, an alternative to the standard RGB matrix arrangement. This structure seems is an offshoot of the PenTile matrix arrangement, but its advantage is an improved fill factor, which correlates better to the efficiency of the different OLED materials used to achieve the basic colors. Samsung says that the
Diamond Pixel
arrangement in its AMOLED panels is actually better than the
PenTile
of yesteryear, as it reduces aliasing and artifacts. Still, the number of green subpixels in the diamond matrix is as high as it would be in a regular RGB stripe configuration, for instance, while the red and blue subpixels are 50% less. They are much larger, though, and with a diamond shape, while the numerous small green subpixels are oval.
Note 3
and the
S4
, which share the same Diamond
Pixel
arrangement.
During the Galaxy S5 announcement, Samsung bragged that it can easily hit 500 nits, which is a remarkable feat for a Super AMOLED screen. Today it clarified the peak brightness levels further, saying that in further in certain high ambient lighting situations - for example, when the summer sun outside is shining directly on the display - they've measured burst levels of 698 nits, while the S5 hits 475 nits on the regular outside. This is the highest brightness level achieved by a mobile OLED panel so far, as only some
Nokia Lumias manage to hit 600 nits
in those circumstances, so kudos to Samsung here.
When we combine that power-sipping display with the new
Ultra Power Saving
mode on the S5, it
should be ranking among the best,
but we'll save the verdict for when we do our own battery test. For now, it seems that with the Galaxy S5, Samsung has indeed managed to make its best mobile screen with OLED technology to date.