Samsung Galaxy S5 cases and accessories: first look
5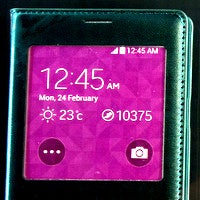 Samsung has its brand new S View covers and cases for the Galaxy S5 on display at Mobile World Congress, and we took a closer look at what the garments of Samsung's new flagship will look like.
First, we noticed a variety of color options for the cases and covers on display - we saw a black, white, pink and gold ones, but we wouldn't be surprised if there were more. The S View Cover has a huge window cut out in the front where you can peek at the time, date, missed notifications and health and fitness information.
There is also a separate version of the S View cover that adds wireless charging capabilities to the S5. Put one of these covers on and you'd be able to just put the S5 on a wireless charging pad and have its battery juice up.
Apart from these cases and covers, third-party manufacturerw have also brought their cases and other accessories to MWC. Take a look at all the Galaxy S5 cases accessories on display at MWC 2014 right below!