Samsung Galaxy S5 camera under the microscope: in-house Samsung sensors make fast auto-focus magic possible
44
After years of reliance on Sony camera image sensors in its flagships, this year, Samsung is finally ready to ship the
Galaxy S5
with its own, in-house ISOCELL sensor that the company claims could be the next key breakthrough for mobile cameras after the arrival of backside-illuminated (BSI) sensors.
BSI camera sensors improved the sensitivity of the sensor hugely, paving the way for higher-resolution (most notably, 13-megapixel) mobile cameras with smaller, 1.1µm pixels. Now,
ISOCELL technology builds up on BSI
, as it claims to bring another leap in light sensitivity, while reducing noise, and capturing a higher dynamic range.
Chipworks put the 16-megapixel main and the 2-megapixel secondary camera sensor of the Galaxy S5 under the microscope to show what secrets ISOCELL hides, and the images it captured verify that we indeed have Samsung-made camera sensor in the S5.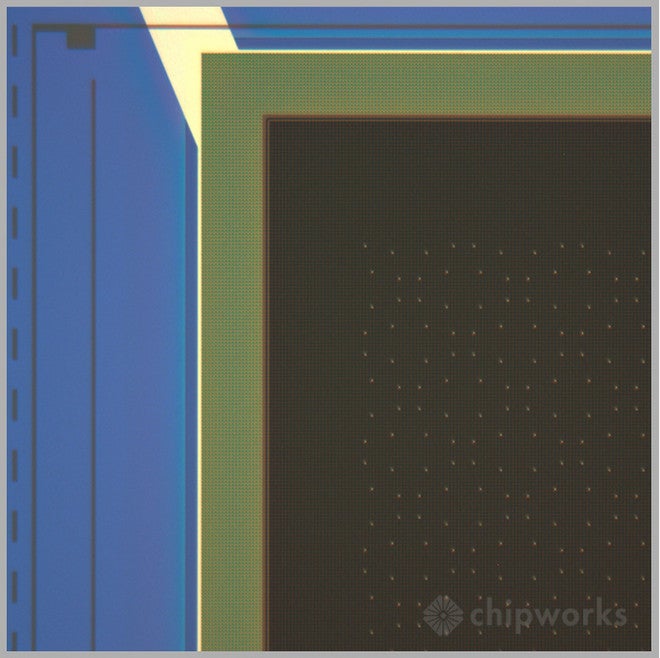 Phase-detection pixels on the camera sensor
The main, 16-megapixel camera sensor carries the model name
'S5K2P2XX'
and features 1.12µm sized pixels. The front-facing 2MP camera has the
'S5K8B1YX03'
model name, and it also comes with 1.12µm pixel pitch. Chipworks has already showed us a vertical X-ray image of an ISOCELL sensor showing how Samsung is the first to combine advanced features like front deep trench isolation (F-DTI) and Vertical Transfer Gate (VTG) in a mobile camera sensor.
What's particularly interesting, though, is that Samsung is also one of the first companies to implement phase detection auto-focus pixels that allow the AF mechanism to lock focus in just 0.3 seconds. Indeed, pairs of phase detection pixels are positioned almost entirely throughout the sensor pixel array.
This is indeed an impressive technological breakthrough - Samsung is the first company to implement phase detection on a 1.1µm pixel array, and moreover - on a BSI sensor. Phase detection pixels are also half-masked, which suggests that Samsung is using a back aperture grid, another first for the company. You can see the images of the brand new Galaxy S5 sensors up-close in personal in the gallery below. Let us know what you think about the Galaxy S5 camera, and stay tuned for our forthcoming full-on Samsung Galaxy S5 review!
source:
Chipworks