Samsung Galaxy S II Skyrocket benchmark tests
79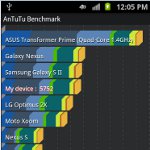 It wouldn't surprise us if there are still some people out there crying over the
Samsung Galaxy S II Skyrocket's
choice of using Qualcomm's processor as opposed to the dual-core Exynos CPU from before. Thankfully, its
1.5GHz dual-core Qualcomm Snapdragon S3 processor
seems speedy enough on paper to deliver an experience that's top notch in terms of control, execution, and stability. But will it take a commanding presence like the original version?
Out of the box, it's nearly impossible to meticulously find any difference in performance between the Skyrocket and AT&T's version of the Samsung Galaxy S II – since they're very
responsive
with their operations. Exuding some slick movement while navigating across its homescreens, it doesn't seem tested that much when we activate a graphically intensive live wallpaper. In fact, everything appears to be fine and dandy with the handset – so it's still a quality device based on its initial performance out of the box. However, we do notice that it's only a notch down from the performance that's exhibited by the AT&T Samsung Galaxy S II – though, it's negligible.
Before running any benchmark tests, our mind tells us that it'll probably be slightly below the level of its Exynos equipped counterpart. Rather, we're pleased to find it performing on the same level, since we've able to get scores between
2,787 and 3,636
with the
Quadrant
benchmark, which is clearly on par to the
AT&T
and
T-Mobile
versions of the Samsung Galaxy S II. Moving on with the
AnuTu
benchmark test, it's given an overall admirable score of
5,752
. Needless to say, it's well up there in terms of performance – riding close to other devices like the international version of the Samsung Galaxy S II and even the Galaxy Nexus.
So what does it all mean? Well, even though it's not sporting that lovable Exynos processor from before, it's not sacrificing on performance with its Qualcomm Snapdragon processor. Instead, it's delivering a spot-on responsive performance out of the box, which is what we'd expect with this juggernaut of a smartphone.