AT&T Samsung Galaxy S II benchmark tests
55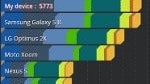 With the GSM version of the
Samsung Galaxy S II
, we were introduced to a high flying smartphone that managed to put up some
astronomical benchmark results
– thus, catapulting it to the stratosphere as being one of the fastest smartphones on the market. Well, now it's AT&T's turn to show what its version of the Samsung Galaxy S II is capable of achieving.
In the short time playing around with the handset, it exhibits plenty of
smooth and fluid executions
with most tasks – like navigating around its homescreen and running apps. Of course, we're not all that surprised to see it flawlessly radiating some tight responsiveness when navigating its homescreen, but our eyes perk up when the same response is evident when a live wallpaper is used. Generally, we tend to see a slight drop with performance with this, but it's very remarkable to see the AT&T Samsung Galaxy S II running so eloquently still.
Starting off with the
Quadrant
benchmark, the handset is able to whip up scores well into the
3,000
mark – but we're blown away by the
3,733
score we're able to get! Amazingly, that literally blows away the competition in the dust as others struggle to even top the 2,000 mark of late. Moving on, we're given a total score of
5,773
with the
AnTutu
benchmark app, which is well in line to the figures obtained by the original handset. Nevertheless, it goes to show that AT&T's version is still one beastly phone under the hood.
Indeed it can be regarded as being the king of the hill right now, especially when its dual-core 1.2GHz Exynos processor with 1GB of RAM is able to deliver such joy. Still, we'll be testing the handset further to see what kind of performance it's able to provide us in the long term – though, we're mightily impressed so far!