T-Mobile Samsung Galaxy S II benchmark tests
23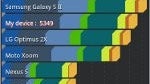 On the outside, it resembles its close brother in Samsung's version of the Galaxy S II – the
Samsung Epic 4G Touch
. Internally though, there is a shakeup of some sort going on seeing that it's powered by a
1.5GHz dual-core Qualcomm Snapdragon S3 processor
coupled with 1GB of RAM. Obviously, it's a stark difference to the 1.2GHz dual-core Exynos processor used by the clan, but nevertheless, it's by far what makes the handset different.
After playing around with the
AT&T Samsung Galaxy S II most recently
, we have to say that there is a noticeable difference in the performance of T-Mobile's version – especially if you've played with another Galaxy S II already. Even though its operation while navigating across the homescreen is smooth for the most part, we can meticulously see some evidence of
choppiness
with its movement. Moreover, it's not the same buttery smooth execution we've seen before. Nonetheless, its speed and responsiveness is ample enough to to appease even some of the power users out there.
Trying to live up to its brand name, T-Mobile's version of the Samsung Galaxy S II puts up some admirable
Quadrant
scores – though, it seems to be all over the place. At times, we find it dishing up scores just under the 3,000 mark, which is surprising since the other variants are capable of hitting the 3,500 mark on the average. In our testing, it's able to provide
Quadrant scores ranging between 2,547 and 3,417
. Meanwhile, with the
AnTutu
benchmark, it gives us a total score of
5,349
, which seems to be on par to its siblings.
So yeah, its benchmark scores are close to what we've seen with the other Samsung Galaxy S II smartphones out there, but it's nothing better. Of course, we're content by them, but we're more concerned that it doesn't exude the same level of speed when compared to its siblings. Again, we'll keep a close eye on this one to see how it fares in the long run with our review.