Samsung Galaxy S 4 Group Play and S Translator demo
12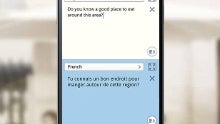 Samsung decked the
Galaxy S 4
with an integrated
S Translator
function. In addition to allowing your phone to essentially act as an audio translator, it can also use OCR to translate texts on signs and things to help you along your way. Most likely powered by Google Translate, meaning you'd require an Internet connection for the translation, the apps supports to and from in 10 different languages. There are prerecorded lines of conversation for the most used scenarios while you travel, which can be accessed offline.
Another new feature, and this one is pretty cool, provided that you have enough friends or family around with those Galaxy devices you might have heard about, is that you can "daisy chain" them in a
Group Play
scenario, where, besides joint gaming and file exchange, you can play music distributed amongst all the speakers, and make a five-channel surround sound performance if you wish. See the feature demoed in the video below.