Samsung Galaxy Note 9 vs. LG G7 ThinQ: ThinQ size is everything?
10
The Galaxy Note may have been the de facto pioneer of the "phablet" era of smartphones, but these days, as bezels shrink on devices, so too do the lines between "phablets" and regular-sized phones. Take LG's G7 ThinQ, for example. There's no "plus" in the name, or anything like that; it's just a "regular" phone, right? Well, with a screen that's only .3 inches smaller than the once relatively behemoth Galaxy Note, the G7 ThinQ might be picking a fight with a competitor out of its class. Or, perhaps, is it the other way around?
Design and Display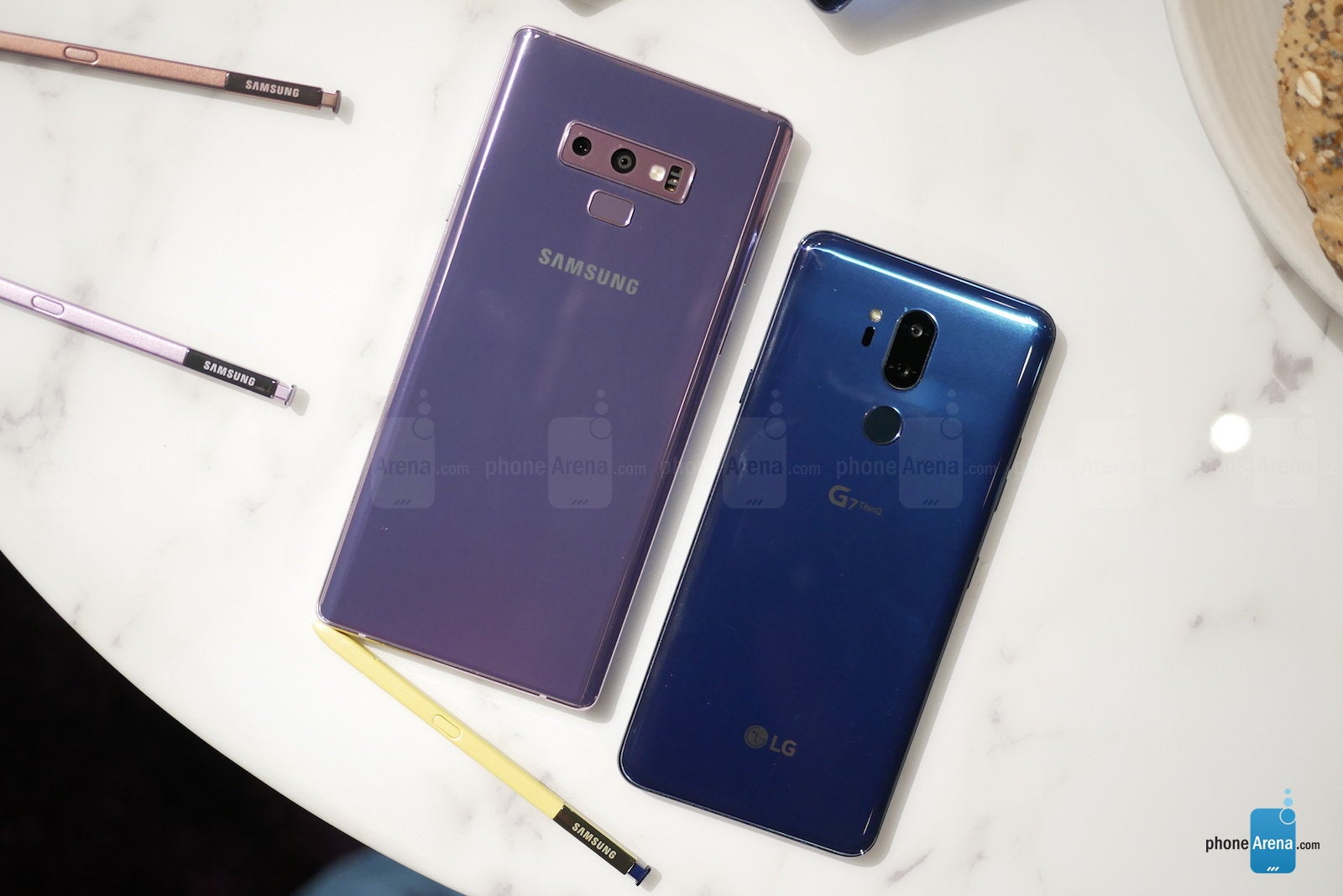 As mentioned, the LG G7 ThinQ's size doesn't actually differ all that much from the Samsung Galaxy Note 9. Only a few tenths of an inch separate these two in terms of body dimensions, but the Note 9 does plainly appear larger. It's also slightly heavier, weighing in just under an ounce and half more than the G7 ThinQ.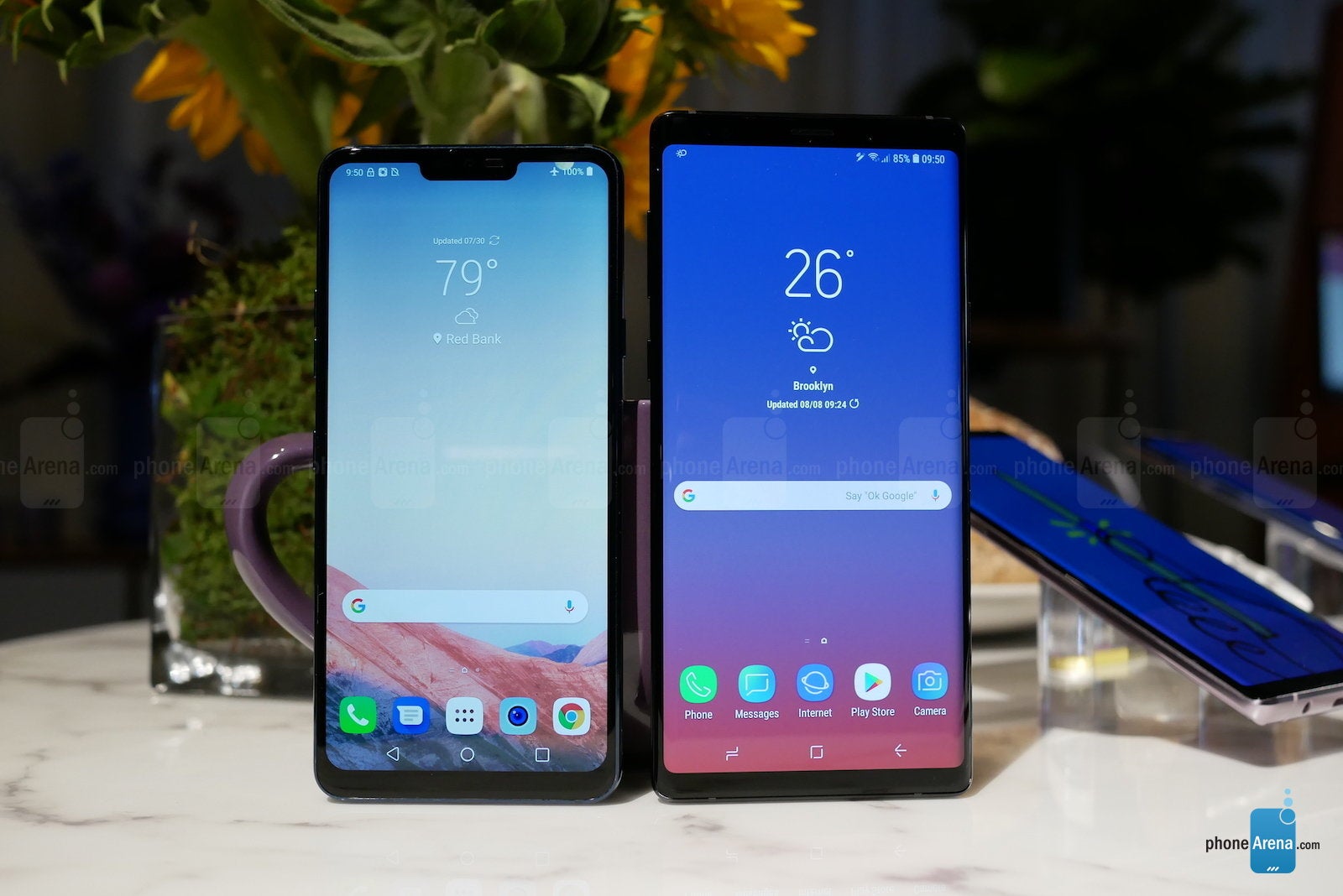 The notched display and more rounded edges of the G7 ThinQ make it look like a lot of recently released phones, whereas the Galaxy Note 9 retains its unique, squarer shape – even with curved edges and seemingly infinitely shrinking bezels. In this regard, the Galaxy Note 9 looks more original without looking dated, despite its mostly unchanged design language versus last year's Note 8.
Looking past the shape, these displays are real lookers in terms of the clarity and vibrancy. The Note 9, with its 6.4-inch, 1440 x 2960, Super AMOLED display, pulls off the rich colors and sharp details we've come to expect on high-end Galaxy devices. The G7 ThinQ, on the other hand, has similar color saturation, albeit slightly less punched up with its 6.1-inch, 1440 x 3120, IPS LCD. The G7 ThinQ also has a trick up its sleeve in that it can reach 1000 nits of brightness for short periods of time, making this the easiest phone to see in direct sunlight – a distinction the Note 9 can't take away, no matter how nice and big its own screen is.
User Interface and Performance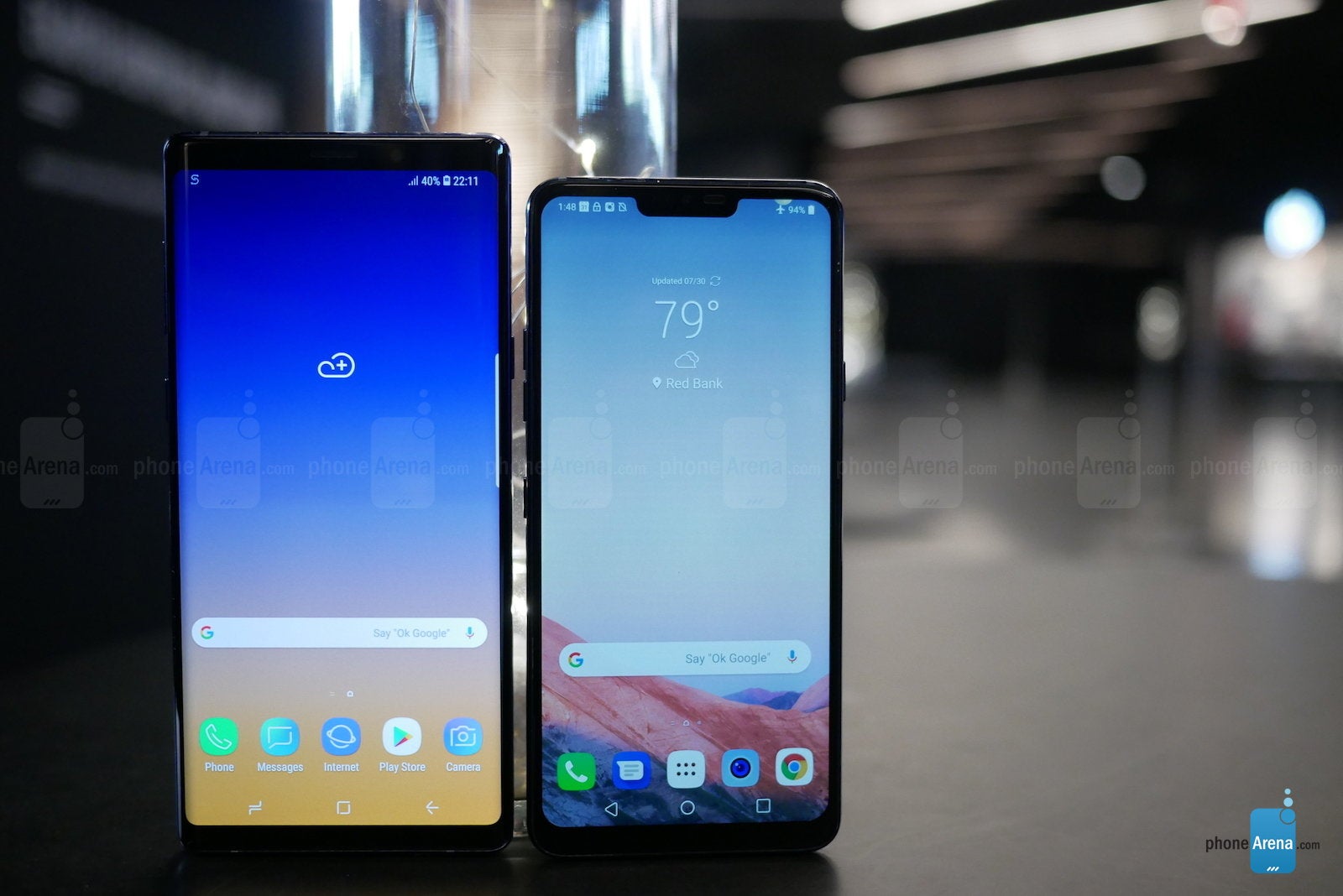 As far as performance goes, both the LG G7 ThinQ and Samsung Galaxy Note 9 sport the latest Qualcomm silicon with the Snapdragon 845. The Note 9 does start with six gigs of RAM and 128 GB storage, though, versus the G7 ThinQ's 4GB RAM and 64GB storage – not to mention that the step up for the Note 9 quadruples storage to 512GB and ups RAM to 8GB, while only certain parts of the world can opt for an LG G7+ with 6GB RAM and 128GB storage. Looks like the Note 9 has a clear edge here in raw power and storage, but of course benchmarks and day-to-day use may tell a slightly different story. With this setup, though, it'd be hard to fathom a scenario in which the Note 9's performance doesn't trump the G7 ThinQ's, but software can make a difference.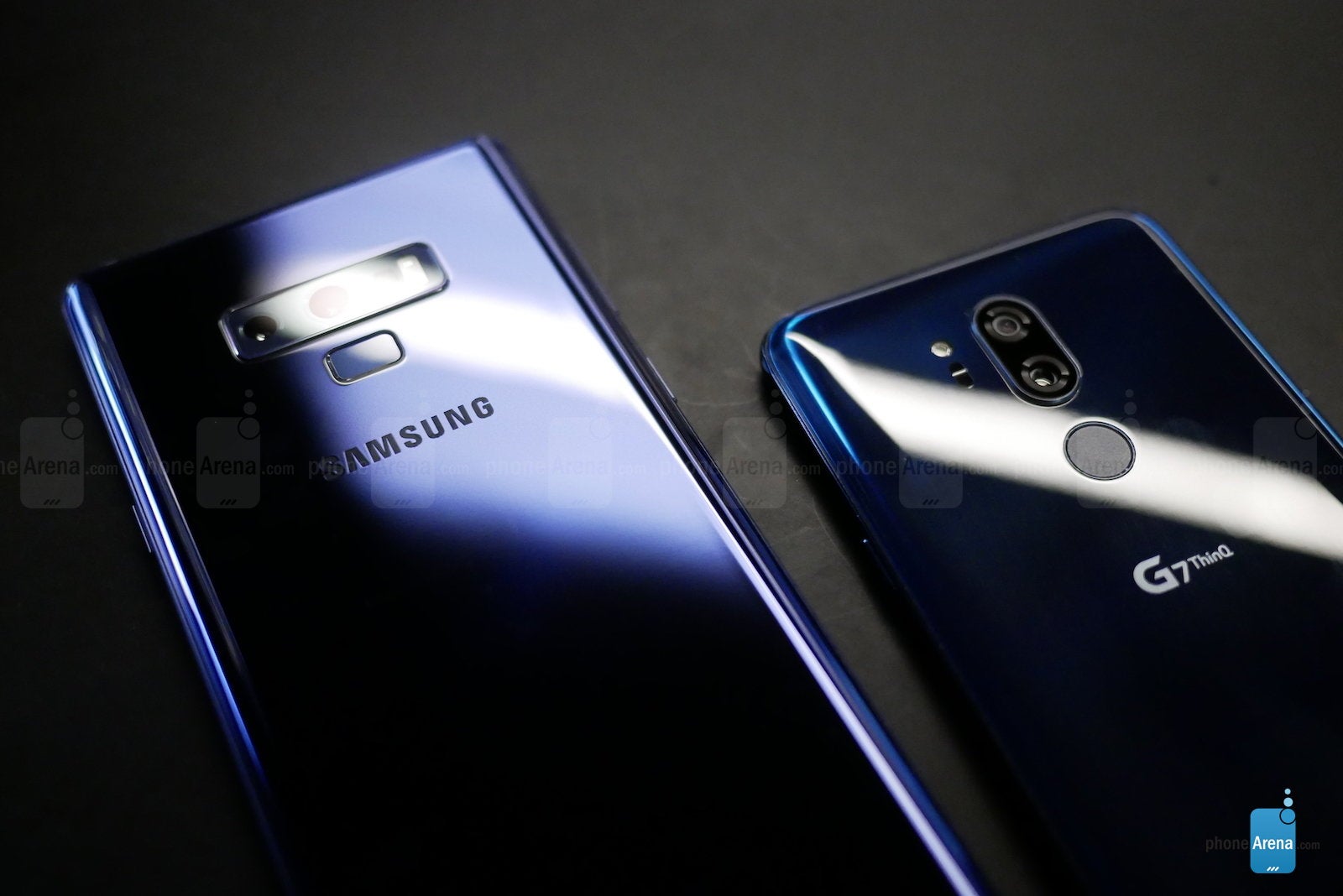 Speaking of which, Samsung and LG are two manufacturers that prefer to tweak Android to their own tastes, and we've liked what we've seen from both companies in the past – quick, fluid performance, and fun additional experiences. While the G7 ThinQ relies heavily on the AI aspect of its marketing, there really aren't a whole a lot of AI features going on that separate the G7 ThinQ from most any other high-level flagship. Instead, LG relies on small things like the floating bar, which offers shortcuts to apps and useful functions via a floating icon, and smaller nuances like knocking on the screen to lock the device and other minor additions.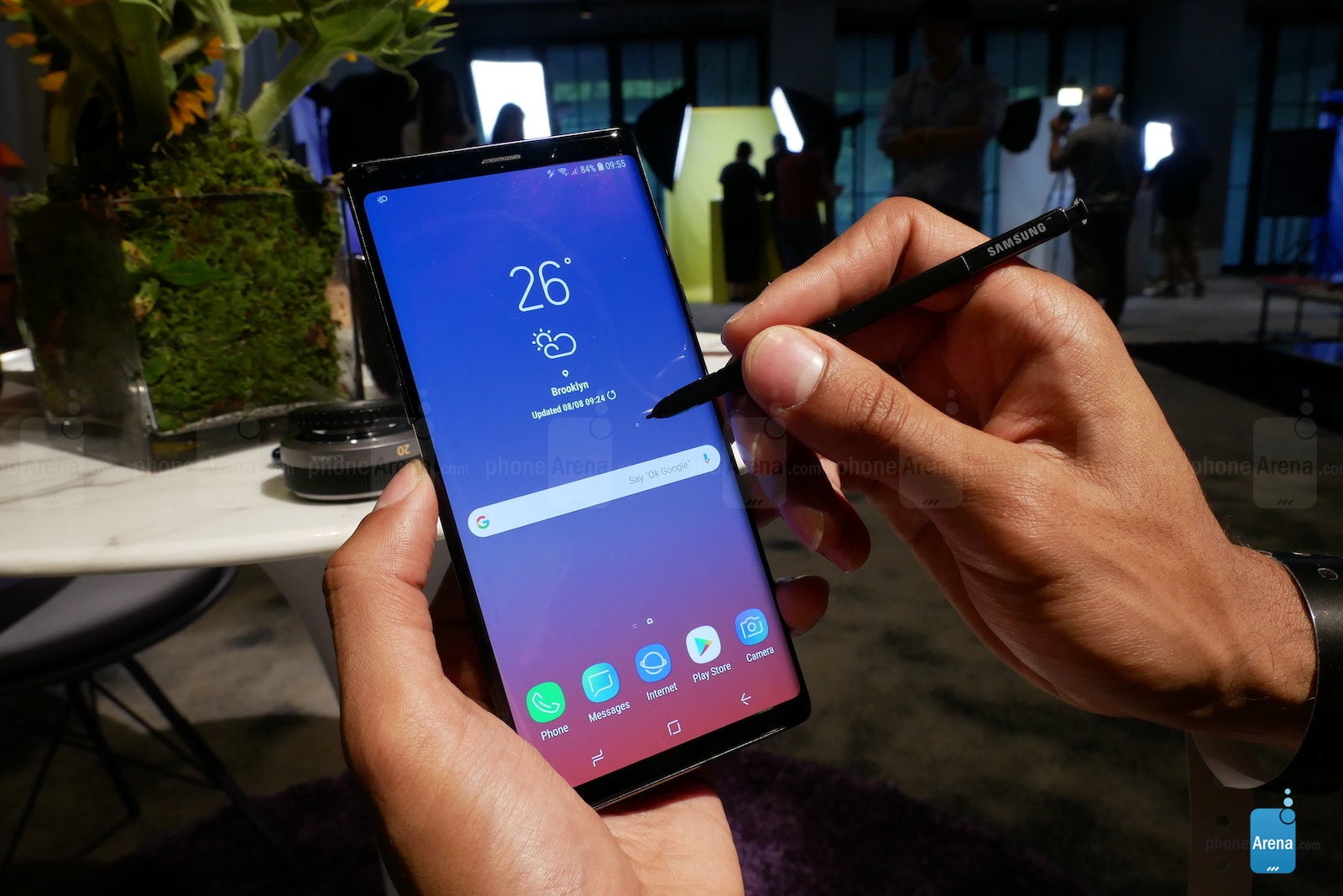 Compared to the Note 9 experience, there really isn't much of a comparison. By no means is LG's G7 ThinQ bad – its small changes and particular flavor of Android amount to a fun, easy-to-use device – but Samsung's striving to do a lot with the Note 9, as the phone deserves, and as Samsung has traditionally done. The S-Pen has graduated from a writing utensil to a remote control, and snapping selfies with it, controlling media playback, and of course taking notes with it is a fun, unparalleled experience. The availability of Samsung DeX, the companies built-in, phone-to-desktop computer conversion software and its easier accessibility via only an HDMI cable only further separate it from the G7 ThinQ and the rest of the "phablets."
Even Bixby may be another value proposition worth considering when weighing the G7 ThinQ versus the Galaxy Note 9. With its bolstered functionality and app partnerships with the likes of Uber, Yelp, Ticketmaster, and Spotify, when things are working well, it may be the preferred assistant over Google's in more instances than you might initially thinQ. Either way, the Note 9 has both assistants, while the G7 only has one.
The choice seems pretty clear; if you want features, the Galaxy Note 9 is the way to go.
Camera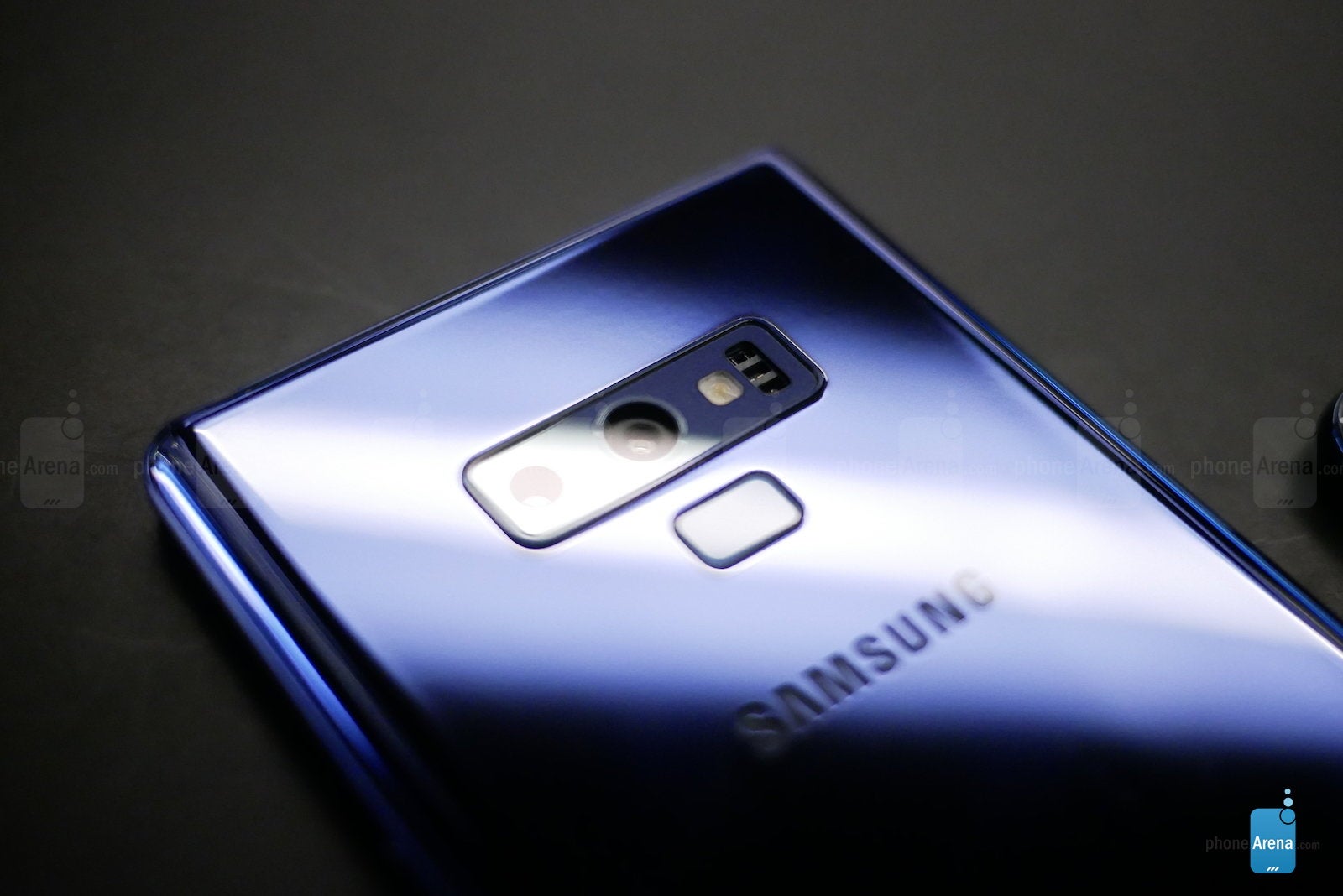 Spec for spec, the cameras seem to be the most exciting aspect of this face-off. The LG G7 ThinQ pairs optically-stabilize, 16 MP cameras, one regular and one wide-angle, while the Galaxy Note 9 chooses the same lens pairing, but with 12 MP on each camera, and variable aperture for the wide-angle lens. On paper, the casual observer may assume this is a battle Samsung is set to lose, but specs are hardly the full story.
Software on both are quite similar in terms of their feature set; both utilize scene recognition features to optimize the shot, and, of course, both have portrait and manual camera modes for optimal creative control.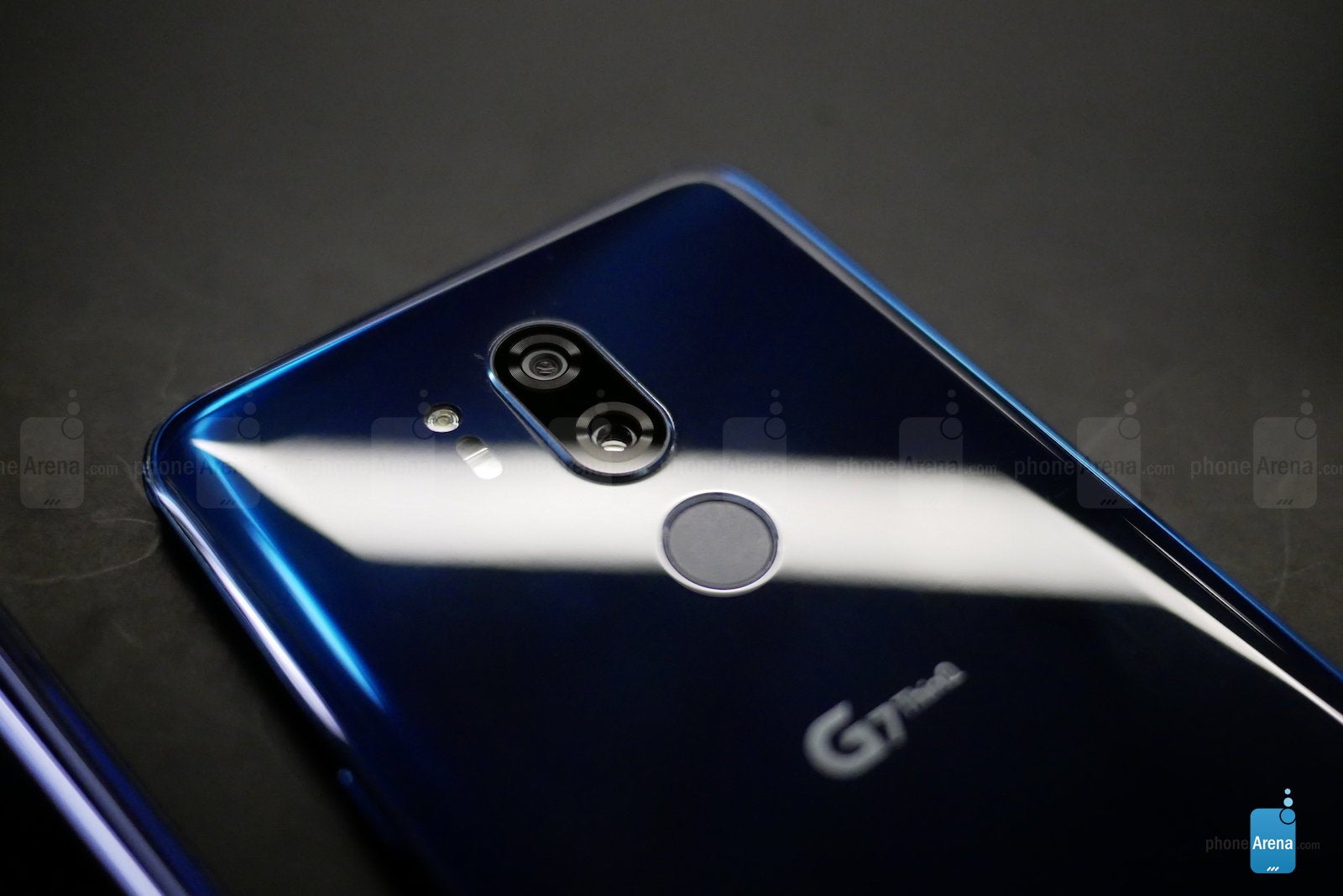 As expected, both cameras are quite exceptional, but not without their faults. We'll reserve judgement until we can put these cameras through their proper paces, but on the surface, it appears to be a tough match-up.
The G7 ThinQ does edge the Galaxy Note 9 out in video recording features, though. Manual controls for video capture have long been an advantage of LG devices, and support for HDR10 4K capture pushes the G7 ThinQ ahead further. These are two features that the Note 9 can't match, though it does support super slo-mo at 960 frames per second – a trick the G7 can't replicate.
Conclusion
So, does the Galaxy Note 9 distinguish itself as a true "phablet" among the wannabes? Well, size-wise you'd be right to think so, even though the G7 ThinQ's screen is only .3 inches smaller. But alas, size isn't everything. What do these devices do differently with that space? In the case of the G7 ThinQ, not much. While the Galaxy Note 9 offers paired app launching, Samsung DeX support, and a plethora of writing and drawing features, it's hard to call anything else a phablet when competitors have nothing of the like to offer.
If the camera and battery life can deliver, we anticipate performance will follow, and if that is the case, then we think the choice between the LG G7 ThinQ and Samsung Galaxy Note 9 is clear if you want a phablet. What do you think?