Samsung Galaxy Note 9 review: 9 key takeaways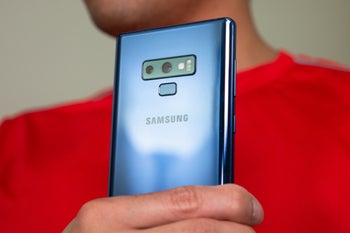 The Samsung
Galaxy Note 9
is probably the loudest and brightest new Android phone of the second half of the year: Samsung's powerful creation is a demonstration of all the best that the company can offer, starting with the gorgeous screen to the refined glass-and-metal design and finishing with the much improved battery life and solid camera performance.
The Galaxy Note 9 also does not have a notch, keeps the headphone jack and has a microSD card slot (all of that with a large, 4,000mAh battery)... what more could you want?
Well, we have used the Note 9 in the past week and we are eager to share our impressions in our full review, but also here, in this quickly digestible key takeaways format. Read on to find out all you need to know about the new Samsung Galaxy Note 9.
1. Design is refined yet still practical
Beautiful looks, while keeping headphone jack, microSD card slot, but phone is bigger than most others
Samsung has taken a role of a leader in smartphone design in the past couple of years and the Note 9 is the latest in its series of glass and metal phones that have forged a signature "Samsung" look that is easily recognizable. The Note 9 is beautiful, with elegant curves and stunning glass, but it's also a fingerprint magnet and it is noticeably bigger than most other phones out there.
Curiously, it is just a hair thicker than its predecessor, despite having a much larger, 4,000mAh battery inside.
2. All-new S Pen as a presentation clicker
Remotely control the Note 9 with the new S Pen, enjoy the funky new yellow color, but physically it's nearly identical to last year S Pen
The S Pen is the one thing that makes the Note stand out among all other phones out there: while it's not something that you will use every day, it's just so convenient to have a digital pen at your disposal at all time, be it to sign a document or... to use the new remote control capabilities that the S Pen provides.
We tried remotely controlling a slideshow (worked well), clicking through YouTube videos or Spotify songs, and it all works very well. Plus, it's so much more convenient to sign a PDF with the S Pen! The yellow color of the S Pen combined with the blue color of the phone makes for a very contrasty and memorable combination too.
3. Screen: Super AMOLED comes with vivid colors, but also lots of customization options
Samsung is the mother and father of AMOLED screen technology, and this is the company's best creation
The Note 9 features a 6.4-inch Super AMOLED screen, just a hair larger than the 6.3-inch one on the Note 8, but it actually seems to have slightly larger side bezels.
The screen is gorgeous and by default features punchy, saturated colors, but this being a Samsung AMOLED display, it also provides a bunch of customization options, so you can tone down the colors and get photo-accurate sRGB colors in the "Basic" or "Photo" screen modes.
We also have full display tests and benchmarks in our review, but summing it all up shortly: this display is excellent. It gets plenty bright outdoors, retains accurate colors and is very power efficient. Yes, it also supports the familiar and useful Always-on Display mode.
4. Dock-less DeX makes it easy to get productive and connect to a larger monitor
Simply get a tiny HDMI dongle and connect the phone to a larger monitor without any other gadgets
The Note 9 does not have a separate DeX dock that you'd have to carry around with you: instead, it's much easier to connect it to a larger monitor with just a USB-C to HDMI dongle.
We have used the DeX mode with the Note 9 and it connects without any issues, and the phone works without heating up too much. With the DeX interface, you basically have a desktop-like environment with icons and the option to hook up a keyboard or a mouse for more precise pointing and faster typing. Great solution for on-the-go performance.
5. Android 8.1 with Samsung Experience, unchanged looks, update to Android 9 Pie coming soon
Samsung Experience still lacks a bit in smoothness when compared to a Pixel, but it's rich in features
Unfortunately, the Note 9 does not have the latest Android 9 Pie version on board. It runs on Android
8.1
Oreo with the Samsung Experience interface on top. The Samsung Experience is a complete overhaul of the stock looks and has little to do with Material Design, but it has a charm of its own.
The daily performance is fast as you'd expect, but not quite as smooth as on a Google
Pixel
, as you can still see a bit of stutter here and there. It must be that ancient TouchWiz curse!
Samsung promises to update the Note 9 to Android Pie swiftly and with it more features will make it to the phone.
6. Performance is great (we have the Snapdragon 845 version)
Benchmarks on par with others, can't quite beat iPhone X
We have already touched on the daily performance, but what about the benchmarks and gaming performance? This is one area where the Note 9 performs excellent, as expected: we have the Snapdragon 845, US version of the phone and it ranks on top of the benchmark charts along with the other new phones of the year. It does, however, fall slightly short of Apple's
iPhone X
and
iPhone 8
series, which still rank superior in terms of benchmark performance.
Gaming is also a pleasure on the Note 9 with the big screen and long battery life. Samsung also has a dedicated gaming mode that will protect your gaming session from needless distractions.
7. More storage is a game changer
You have a 128GB base model and 512GB costlier version
It's hard to appreciate the beauty of having a lot of storage on a phone that you have just used for about a week, but we well know that after a few months, so much data would accumulate on our phones that we would start worryingly looking at the storage.
If you shoot a lot of video and play a lot of games on your phone, the increased storage options are a god-send. The practically unprecedented 512GB of storage make the Note 9 a phone that you can really store all your digital life on without worrying you'd run out of storage space. Take note, competitors!
8. Excellent battery life: 20% larger battery than predecessor
A 4,000mAh battery makes the Note 9 one of the leaders of smartphones in terms of battery life
We were particularly curious to see how the Note 9 will perform in terms of battery life, after all it has a massive, 4,000mAh battery! And it did not disappoint. It topped the Note 8 in our proprietary battery test by more than an hour, and in real life it lasted us through even the longest day, and sometimes even two days off the charger. Quite the achievement, isn't it?
We were also happy to see that the Note 9 supports fast charging and fast
wireless charging
, so you can top it up fully in less than two hours.
9. Camera does not disappoint: 4K60 video support, great image quality
Almost the same camera as on Samsung's Galaxy S9+ with addition of smart scene recognition
Finally, the camera on the Note 9 turns out to be excellent.
Image quality is sharp, with plenty of detail and great dynamic range. The camera opens quickly, focuses swiftly and stores images without a delay. Panoramic shots are excellent. The quality of selfies is very good (but not quite mind-blowing).
In terms of video, you have 4K60, 4K30 and all the other options, and you have electronic image stabilization and optical stabilization that do a very good job stabilizing footage. You can see the wobble from OIS in 4K60 clips, but apart from that slight inconvenience, the video quality has impressive detail and sharpness to it, and it locks focus nicely.
Overall, there are no compromises made with the Samsung Galaxy Note 9. Yes, the $1,000 starting price is quite high, but if you hunt for the right deals, you might get an excellent phone for an excellent price.