PSA: Samsung Galaxy Note 9 comes with free AKG headphones (or a Fortnite skin) only if you pre-order tomorrow at the latest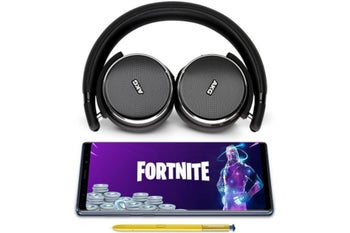 If you pre-order your
Galaxy Note 9
in time, you can choose to receive a free pair of AKG noise-canceling headphones (worth $299, pictured above), or a free Fortnite Galaxy skin with 15,000 V-bucks (worth $150). Obviously, the latter will only appeal to folks interested in playing
Fortnite
on their new phone. These gifts are available regardless of the Note 9 version that's being pre-ordered and can be combined if you're willing to pay $99 for both.
While prices for the Samsung Galaxy Note 9 are the same regardless of where you're buying it from - $999.99 for the 128 GB model and $1,249.99 for the 512 GB one - most carriers and retailers offer various deals on the new handset (available in addition to Samsung's pre-order gifts).
Some of the customers who've pre-ordered the Galaxy Note 9 could
receive the phone today
. Even so, its official release date is August 24.
Have you pre-ordered Samsung's latest and greatest smartphone? If not, do you plan to do it before it becomes widely available?