Samsung Galaxy Note 8.0 confirmed to launch on April 11th with a hard-to-swallow $400 price
39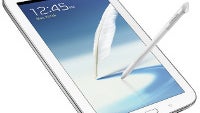 Samsung has just officially confirmed the
Galaxy Note 8.0
tablet will become available in the United States in just two days, on Thursday, April 11th.
As much as we
liked the 8-inch Galaxy Note
, a direct competitor to the iPad mini, its price is even higher than what Apple is charging and double that of Google's Nexus 7 tablet. The
Note 8.0 will cost you $399 for a Wi-Fi-only version
with 16GB of internal storage.
The high price is not a huge surprise, though. Samsung's 8-incher leaked out earlier, but it also has more capable internals than the iPad mini. It's got an Exynos 4 Quad 1.6GHz processor, 2GB of RAM, a 5-megapixel rear camera and a sharper 8-inch 1280 x 800-pixel display. It also comes with the S Pen for jotting down notes and quick sketching. Also, the internal storage is expandable via microSD cards.
As a bonus, those who spend $399 on the tablet are getting 50GB Dropbox storage allowance for 2 years (for new members), a month of unlimited music streaming from the Samsung Music Hub, and a $25 Google Play gift card. Still, isn't $400 a bit too much to swallow? The 8-inch iPad mini in comparison costs $329, and Google's Nexus 7 costs even less at $200.
source: Samsung