Samsung Galaxy Note 4 teardown reveals that it uses Sony IMX240 camera sensor
68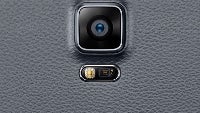 The
Samsung Galaxy Note 4
is one of the most powerful Android smartphones of the year with a zippy Snapdragon 805 system chip, but it also has one of the most capable cameras we've seen so far.
The 16-megapixel shooter manages to do well under all kinds of different situations, and stands out with its rich detail and very pleasing colors. Interestingly, though, Samsung did not disclose any details about the actual sensor used to achieve those results.
That's interesting for one major reason - the Samsung Galaxy S5 was the first phone to feature Samsung's own, in-house ISOCELL 16-megapixel sensor in lieu of Sony sensors used in earlier Galaxy S phones. Now, a teardown of the Galaxy Note 4 reveals that after experimenting with its own, Samsung camera sensor in the S5, for some reason, Samsung has decided to go back to using a Sony sensor.
The Galaxy Note 4 indeed comes with the 16-megapixel Sony IMX240, confirmed by names of components in a teardown of the phablet. Naturally, this is why we're no longer seeing any talk about
Samsung's ISOCELL technology
- it's simply not present on the Note 4. And while the phablet features a fairly fast auto-focus, Samsung does not mention any details about phase-detection pixels on this new sensor (but it seems similarly fast to lock focus).
The IMX240 is a 1/2.6" sensor, nearly 15% larger than the average 1/3" sensor used in top-shelf smartphones. This works out to pixel size of the rather small 1.1 microns. Those, however, are mere technicalities, and what matters most is how the Note 4 shoots, and you can see more of its capabilities below:
Recommended Stories