Samsung Galaxy Note 10.1 tablet to feature powerful ARM Mali T-604 graphics, adding to a quad-core processor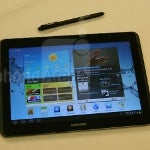 Whatever tablet Samsung was preparing with the
Galaxy Note 10.1
, it has gone
back to the drawing board in terms of specs
now, as a leaked Taiji graphics benchmark shows, and as Samsung itself hinted at us when we were doing the hands-on preview at MWC.
Galaxy S III
- by a huge margin, indicating a new graphics processor. Since the chipset in the
Galaxy Note 10
.1 is listed as the same Exynos 4412 we have in the latest Galaxy phone, then the graphics processor must be the next generation Mali T-604, not the Mali-400 in the Galaxy S II and S III.
We thought that
Mali T-604 will only be coming with the Exynos 5 series of chips
, but apparently Samsung might be testing other combinations, if this benchmark scale is true. The T-604 is quoted for 5x the Mali-400 performance, so we'd expect it to power a high-res screen also, otherwise there wouldn't be much point in adding such a powerful graphics subsystem, unless this is just a test device.
Just yesterday
a device was leaked in Google's Git repo
, that uses the same graphics processor, so something is definitely brewing in Samsung land, that requires the heavy GPU cavalry to be unleashed. At MWC we made the hands-on you see below on a dual-core Exynos with 1280x800 resolution. This might have now been bumped to quad-core with next generation graphics, but there are no leaks whether the screen will be different as well yet.