Samsung Galaxy Nexus can grant its whole screen if an app requests it, hiding away the on-screen keys
22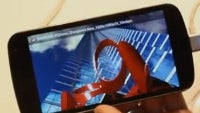 We got a very early preview version of the
Samsung Galaxy Nexus
with no video, gallery apps or Android Market to test if some apps are optimized to hide the virtual navigation buttons, and display their content full-screen.
Units that are closer to the retail state are making the rounds, and this pressing question has been answered already - as you can see below, videos do switch to full screen mode, which utilizes all 4.65 inches of the display, hiding away the on-screen keys.
This is one of the coolest features of
Android Ice Cream Sandwich
, as it can finally lead to phones with bigger displays, but the same physical footprint, since there are no front keys to take up space, and hopefully they will come with thinner bezels.
The Galaxy Nexus itself is not a fine example of this desired category, as it is taller than an
HTC Sensation XL
with a 4.7" screen, for example, although narrower. Oh, well, we know that one still has to place the antennas in a place that will get reception within the phone, but hopefully manufacturers will get creative with ICS phones next year.