Android 4.0 Ice Cream Sandwich Preview
55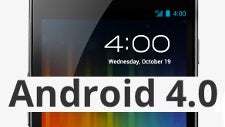 Android 4.0 Ice Cream Sandwich
(ICS) has made its debut and it's every bit as exciting as we thought it would be. It's probably the biggest redesign of Android for smartphones after the platform saw the light of day on the first Android handset, the T-Mobile G1, three years ago. For phone interfaces this is a huge leap, but compare it with Honeycomb tablets, and you'll see a gradual evolution.
Let's also mention that ICS brings a single unified version of Android for both smartphones and tablets. Honeycomb was the
"emergency landing"
solution for tablets when it launched, only there to stop somewhat ridiculous attempts of tablet makers to put stretched out Froyo, which was made specifically for smaller screen, on the bigger tablet display. Now, we're back to a single solution for tablets and smartphones, but this time - it's optimized for both. Moreover, it's open sourced, so everyone will be able to lift the code.
What gives? This will probably lead to Chinese manufacturers busting out even more phone and tablets, this time stuffed with Android 4.0. Google has also urged developers to optimize their applications for both phones and tablets, or exclude certain devices from seeing the app in the code. Older phone apps are also likely to receive a facelift benefitting from the new interface, so it definitely seems like a well-thought out move from Google.
Tron-ified user interface:
To understand the changes in ICS, we have to first understand what lies beneath them and beneath them is a huge change in the design team. If anything in ICS bears resemblance to webOS, it's because Matias Duarte, the design brain behind it, has now taken over at Google. Duarte's works at webOS show his keen affection for simplicity and enthusiasm for gestures, and that's the direction Android ICS is slowly moving to. Slowly, because Android has grown Titanic-huge and even the slightest change in route requires some time. And that whole route, Duarte says, has been thought over, focusing around three priorities:
enchanting, easy and smart
.
Borrowed straight from Honeycomb, but slightly humanized with warmer tones than the rigid robotic feel of the tablet platform, the new interface underwent some changes. It actually looks somewhat similar to the redesigned Google web apps in terms of cleanness and simplification, but there's more to it.
Navigation has been overhauled with the introduction of
virtual buttons
. There are three nearly omnipresent virtual buttons: the back, home and recent apps keys, which dim out only in certain apps like when watching movies or in the camera. Familiar on Honeycomb tablets, but unseen on Android phones up until now. Now this brings the question about what happens with the capacitive buttons on pre-Galaxy Nexus phones. Those capacitive buttons basically double in function with the new virtual buttons, so our guess is that those handsets will just have two sets of buttons. Not very pretty, as those new virtual buttons occupy space as well. We also guess newer Androids will look just like the Galaxy Nexus, e.g. no capacitive buttons on the bottom.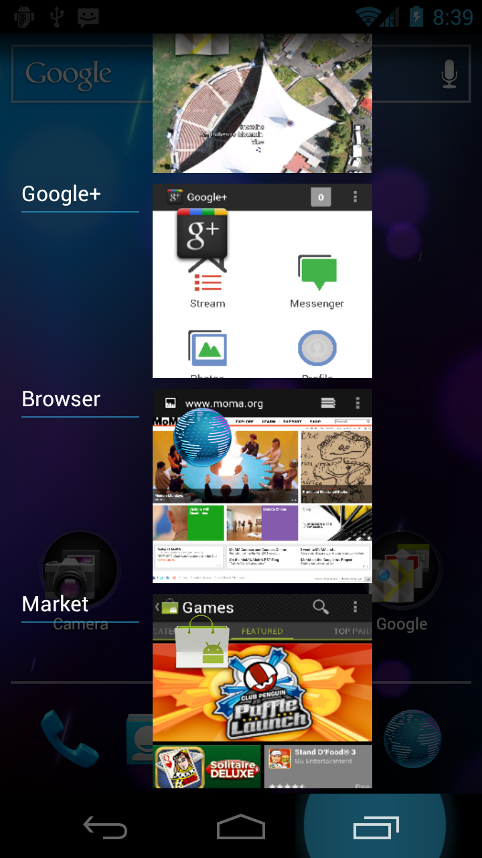 Visual multitasking
Probably one of the biggest UI and functional changes is
visual multitasking
, which is now accessed by a single tap on the recent apps key. It's visual because you can see the state of an app where you left it, tap on it - and you're right back where you left off. It also supports swiping motions a la webOS, so that flicking an app to the right gets it out of the list, but doesn't kill it. This has its roots in Google's tablet version of Android.
The notification dropdown has remained, but overall
notifications have improved
, as now they can be swiped away one at a time. They are also accessible from the lock screen. The
virtual keyboard
comes equipped with better error correction and spell checking.
The visuals are pumped up with nice
animations
added across the system. In addition, new
homescreen folders
are created in an iOS-like fashion by just dragging an icon onto another one.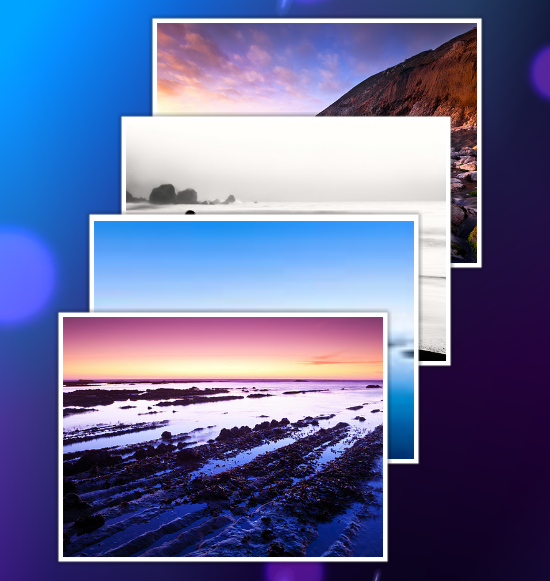 Photo widget
A particular area of the UI coming straight from Honeycomb is the widgets. Everything from the way you access them to
resizable widgets
has been added to Android 4.0.
All of those changes are united under the umbrella of the new
Roboto font
, which replaces the previously used Droid Sans. It's much better looking than the old one, but also bears some resemblance to Helvetica.
Changes in basic functionality, improved apps:
The higlights of the new UI start with the brand
new People app
. This replaces the contacts app and is a much cleaner, visual solution to showing your contacts. Visual because the person's image occupies a much larger space, and cleaner because it gets rid of all boxes, many delimiters leaving some nice blank spaces between fields, so you don't feel in a clutter. Contacts images borrow a magazine-style UI in Google's words, but the Windows Phone community cried foul that ICS is borrowing Metro UI elements. The
Phone app
has also been redesigned allowing you to call contacts with a single tap.
The
Calendar
has been
swipe-enabled
. You can now use gestures in the Calendar. Here, though, by swiping you switch between days, weeks and months. You can also pinch-to-zoom for a more detailed view of your agenda.
Google Apps are among the biggest incentives for picking up an Android handset, and now the apps look even better. Overall, Google is moving to a simplistic interface, just as the one it launched on its web services. First on the list is the new
Gmail, with swipe gestures
. Now, it's even better as Google has improved auto-completion of recipients, but also added quick responses and support for swipe gestures.
Second comes an
overhauled Browser
. We could argue that the average user would spend as much if not more time in the smartphone browser rather than calling, and that's why the change here is of paramount importance The browser now includes a "Save for offline reading" option and redesigned tab switcher looking much like the vertical multitasking list.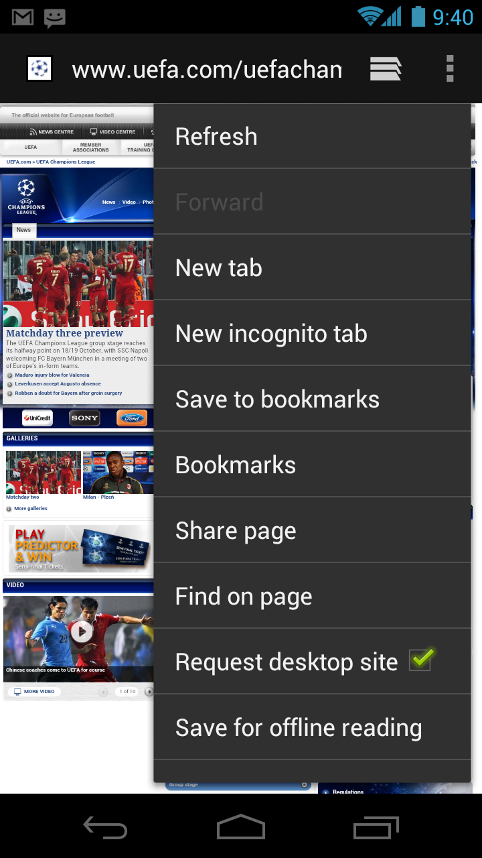 Improved Browser
Google has also published some benchmark results showing significantly improved JavaScript and overall performance due to a new version of WebKit used along with other enhancements.
The browser now also allows you to switch to desktop versions of websites instead of getting stuck in the mobile one. Oh, and it has Incognito mode. And Flash. You know why.
The
Camera
app stripped off shutter lag and comes with facial recognition and image editing. In addition, there's a new panorama mode baked right in the application allowing you to take panoramic shots with a single motion. Live Effects are added to the video capture, so you can fool around with the Silly Face effect or change your background to a custom image.
When looking at the simplified
Gallery
, all focus is on images. Similarly to the People app, the gallery app is now just a collection of tiles. Cough, Metro UI, cough. The similarity is striking. The Gallery can also group pictures in albums by location and faces.
New features in Android ICS: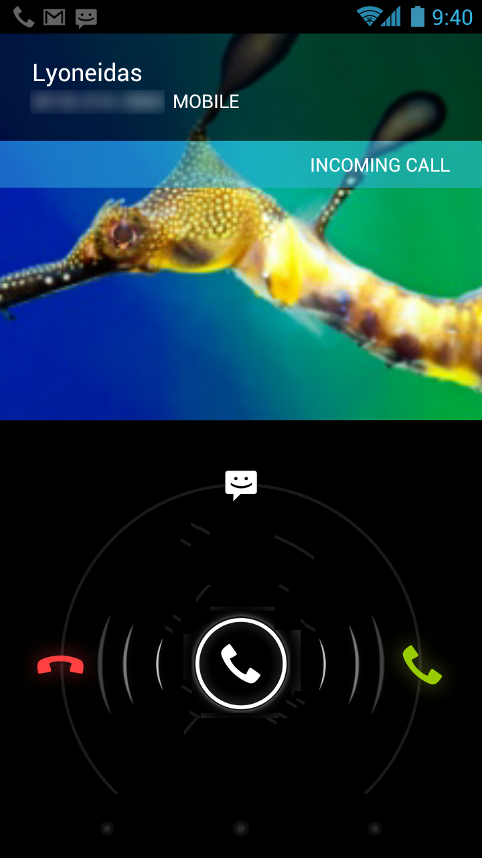 Incoming calls
The list of new features is pretty long but we particularly like the option to
quick text responses to incoming calls
. Now, that's a really useful addition, a timesaver - whenever you get a call you can't answer for some reason, an option instantly appears on the screen allowing you to select one of predefined text messages to answer and end the call.
You can now finally
take screenshots
without the need for additional apps, to the great joy of your fellow reviewers, but we can imagine users would also appreciate it.
Face Unlock
on the other hand will be widely appreciated by users. The name speaks for itself, you just need to look at the phone to unlock it.
After the Siri announcement on the iPhone 4S, Android's voice input system suddenly started looking a bit dated. No wonder - Siri uses 40 years of DARPA research, but we'd think Google will come with an answer. The first step to that is the
new voice input engine
in Android ICS. Hello, Siri, you might think. But it's rather: "Hello, long monologues," as the new feature allows you to dictate text with longer pauses using not just English but other supported languages as well. No artificial intelligence or hot tempered answers.
When we speak about Siri we should also note that ICS comes with much
better accessibility
. You can navigate without looking as the system gives you audio feedback for everything you press on the screen if you enable the option in Settings. The browser can also read text and put you to sleep with robotic lullabies. It will only read them, though, if that's what you want.
Android Beam
on the other hand compensates with awesomeness. It is an NFC-enabled tap to share service allowing you to "beam" websites, directions and files. We're looking forward to testing the Beam, but it looks like a very, very big incentive for phone makers to finally start adding NFC to their phones. Just as a reminder, it's been a year since the NFC-enabled Nexus S launched, and there are hardly any other devices shipping with the chip pre-installed.
Android 4.0 gets a big productivity boost as now you can actually
control network data.
ICS gives you all the tools pre-baked in the system. And that's seriously useful when we start going massively into LTE territory where tiered data rules supreme and overage fees could make you cry. In the settings, you have access to data usage by network (mobile or Wi-Fi), but also by each app. Impressive.
Overall, there's a feeling of solidity with Ice Cream Sandwich. It's a big update not because it brings a lot of new features (it does come with a few, but many we've already seen on Honeycomb), but because it's a statement by Google that it wants to see tablet and phone looks unified. ICS brings clarity and a healthy sense of control by Google, after the somewhat chaotic bi-directional, unclear path taken with Gingerbread and Honeycomb. Moreover, the feeling of a raw, beta product is now almost gone. It fine tunes the elements that needed to be improved, and introduces important usability improvements.
One thing we're not so clear about is the way it will handle pre-Galaxy Nexus device updates. If it manages to live up to users' expectations for quick updates on a lot of devices, it will definitely gain traction. Hopefully, the newly announced DROID RAZR, and heavyweights like the Galaxy S II will get updates soon. But now it's back to you, do you like what you see in Ice Cream Sandwich? Chime in with your impressions in the comments below.