Samsung Galaxy Gear coming September 4th without flexible display, Apple to unveil iWatch this year
25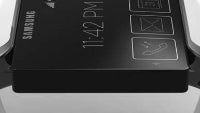 The Samsung smartwatch is coming. Samsung will announce its first smartwatch under the Galaxy Gear name on September 4th, according to Bloomberg. It will not feature a flexible display, as we have earlier seen in patent filings, but Samsung is continuing work on that technology for future devices. Samsung is also expected to officially unveil the Samsung Galaxy Note III phablet on the same day as the Galaxy Gear.
The Gear smartwatch will launch by the end of the year to counter a possible Apple iWatch. It will allegedly feature a phone call app (you should be able to make calls on it), web browser and an email application.
With the Gear, Samsung is among the first big manufacturers to join the wearable device race. The high-end smartphone market is allegedly nearing saturation and the smartwatch is largely seen as opening a new and important niche.
Apple on the other hand wants to
unveil its iWatch by the end of the year
as well. Cupertino is said to have assembled a team of 100 designers working on the device.
Back to smartphones,
Samsung is planning to release two new hero devices in 2013
in addition to the Galaxy S4. One would probably be the Samsung Galaxy Note III and the other one would be a smartphone based on the new, Samsung-made Tizen operating system.
source:
Bloomberg