Samsung Galaxy Ace 3 to launch around June
13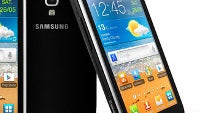 The
Samsung Galaxy Ace 3
is on track to getting released this year and it will feature a 4-inch display, a 5-megapixel camera and run on Android Jelly Bean, according to SamMobile.
The Galaxy Ace has been one of the more successful Samsung devices. It is a very affordable phone, selling right between the low and mid-range. Samsung launched the first Galaxy Ace in 2011, iterated on it last year, and this year we should see the Galaxy Ace 3.
The device will allegedly launch in four colors: Metallic Black, Metallic Blue, Pure White and Wine Red.
The Galaxy Ace 3 is set to launch under the GT-S7272 model number, and that means it will have a dual-SIM version. It will feature 4GB of internal storage, Bluetooth 4.0 and 1500mAh battery. The processor is likely to be a 1.2GHz dual-core one.
The third Galaxy Ace release date is expected to be at the end of May or early June. The off contract price should be around 300 euros ($385).
source:
SamMobile