Samsung DeX Pad now available for pre-order in the US for $99.99
8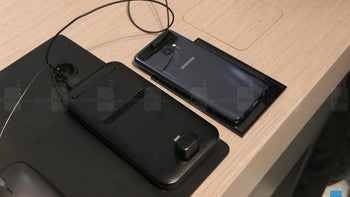 If you already own one of Samsung's new flagships, the
Galaxy S9
or
S9+
, you can now pre-order the DeX Pad, an accessory
unveiled back in February
. The new Dex Pad won't come cheap, so if you want one, you have to come up with $99.99 upfront.
According to Samsung, all pre-orders will ship in the week of May 13, so everyone should get their accessories in mid-May. Also, the handset maker offers free shipping on all orders, so you won't have to pay more than 100 bucks.
The
Samsung DeX Pad
comes with Fast Charge wall charger, USB-C cable, and HDMI cable. Basically, everything you'll need to connect your phone to a bigger display.
In case you haven't used such an accessory before, the DeX Pad enables you to turn your smartphone into a true desktop experience. Simply dock the phone into the DeX Pad so that it launches a special DeX mode on the connected external monitor.
On top of that, you'll be able to connect a mouse or keyboard for even more productivity, or you can use the phone's screen as a touchpad. Another major benefit is that while you're working on a bigger display, the DeX Pad will fast charge your
Galaxy S9/S9+
.
Last but not least, the DeX Pad is equipped with two USB-A 2.0, an HDMI output, and a USB-C charging port, which allows users to connect a wide range of peripherals.