Unannounced Samsung DeX Pad leaks out, brings a Galaxy S9 with it
19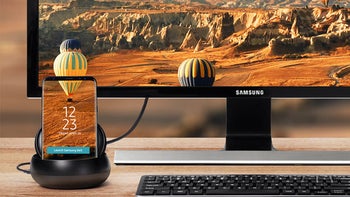 Samsung's
Galaxy S9
and
S9+
(both scheduled to be
announced on February 25
at
MWC 2018
) will be released alongside various new accessories. Among these, Samsung will launch a DeX Pad - an accessory that seemingly takes last year's
DeX Station
(pictured above) to a new level.
Similar to the DeX Station, the Samsung DeX Pad will let you dock your Galaxy phone, and connect it to an external monitor and other peripherals, like a keyboard or a mouse, basically turning the handset into a PC of some sorts. However, the upcoming DeX Pad reportedly also allows you to use the phone itself as a touchpad or virtual keyboard.
Evan Blass (aka @evleaks) has a couple of images showing the new DeX Pad. As you can see in the second image below, a Samsung Galaxy S9 can be laid flat onto the new docking station, so its screen should sit comfortably under your palm and fingers. Said image appears to be re-confirming the fact that the
Galaxy S9 resembles the Galaxy S8
a lot, at least when viewed from the front. And, yes, that's a 3.5mm headset jack that you're seeing at the bottom of the phone.
Reportedly, the Samsung DeX Pad is also compatible with some older Galaxy handsets (almost certainly including the S8 family and the Note 8), so you won't necessarily need to buy an S9 or S9+ to use it.
Last year, when we
reviewed the Samsung DeX Station
, we weren't completely thrilled with its capabilities. It remains to be seen if the new DeX Pad will bring significant improvements over its predecessor.
We're expecting Samsung to start selling the DeX Pad at about the same time with the Galaxy S9 and S9+, which probably means sometime in March. Like the DeX Station of 2017, the Samsung DeX Pad may cost around $150. Do you think you'll be interested in purchasing an accessory like this?