Rumor mill entertains the option of Samsung buying Nokia
11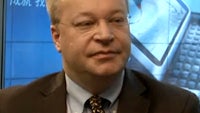 WSJ reports on market rumor that Samsung, of all companies, is
preparing a bid for Nokia
. Asked for commentary, spokespersons from both companies have said they don't chime in on market speculations, but that is standard operating procedure.
Nokia's debt got downgraded recently by two notches, quoting the harsh transitional period to Nokia Windows Phone. All of a sudden the company
issued a profit warning
, too, crashing its share price, and bringing current market cap to $24 billion.
Samsung, on the other hand, is outing some extremely popular gadgets, like the
Samsung Galaxy S II
, and the
Galaxy Tab 10.1
, so we don't really see a good strategy fit from wherever we look at this. Of course, Samsung will acquire all of
Nokia's patents
, which will render Apple's lawsuit easy to fight, although Samsung's CEO already said it won't be "legally problematic" as it is.
If Samsung is preparing to make a bid connected with Nokia, it could be for its share in the Nokia Siemens Networks (NSN) venture, not the handset division. The Finns are reportedly looking to spin it off anyway, although CEO J.K.Shin already said they haven't considered an NSN buyout. Again, it's all rumor and speculation without a source named.
Eldar Murtazin already sold Nokia's handset division to Microsoft
for $19 billion not long ago, and later he claimed the Finns were asking $25 billion, while
CEO Stephen Elop called the rumor "baseless"
.
Who knows, there might be something brewing around Nokia, after all, and these rumors could all be part of a deflection plan, said the conspiracy theorist. The haste with which Nokia's move to WP7 was announced a year before it will actually produce anything of substance, and the profit warning that crashed the stock price even further are all in his favor.
source:
MarketWatch
Recommended Stories