Is Microsoft about to spend $19 billion to buy Nokia's phone division?
7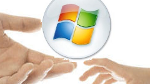 A tweet sent out from Eldar Murtazin hints that the suits at Microsoft have come to the conclusion that they
could
spend $19 billion to buy Nokia's phone division. Of course, that is a far cry from saying that Microsoft
would
make the purchase. Talk of a
buyout
of the Finnish firm's phone subsidiary by the guys at Redmond has been circulating ever since Nokia decided to use Windows Phone 7 in its handsets. And don't forget that Nokia executive Stephen Elop came from Microsoft.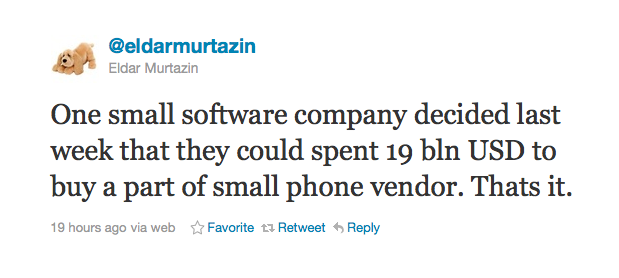 This tweet from Eldar Murtazin says that Microsoft has decided that it could spend $19 billion to buy Nokia's phone division
While Microsoft might be able to finance a $19 billion deal, no matter how you look at it, the company will be spending a lot of money for a business that has been
losing
market share. For this deal to make sense, Microsoft must feel confident that they can add something to the hardware that will be able to
reverse
Nokia's recent performance.
If the deal is structured using equity, current stockholders are not going to take too kindly to the dilution of their holdings. As of the latest quarterly report, Microsoft had $48 billion in cash, so they might be able to use cash on hand to make a purchase. Although there is nothing in Murtazin's tweet that says that a deal is going to happen, with Nokia's stock at a
13 year low
as we
reported
earlier today, the gang at Redmond might be getting a great
bargain
if they decide to make the purchase now.
source:
IntoMobile
Recommended Stories