Rumor claims Wii U has Android built-in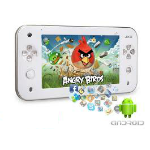 It is starting to feel like whenever a device or company is losing steam, there's one surefire way to at least get it some buzz: claim that Android is going to be added in. We've seen it time and again. There have been multiple rumors that RIM would be either switching to Android,
making its apps available for Android
, or simply
selling to the largest Android manufacturer
. There have been rumors that Sony might adopt Android for its PlayStation products. And now, it has been rumored that the next Nintendo console, the Wii U, will have Android built-in.
We just heard about how Nintendo thinks that the
iPhone killed portable game consoles
(although we're not sure if Nintendo needs to "think" that, since it is quite obviously true.) Now a rumor is gaining steam that the Wii U will be Android-powered. We say that the rumor has been gaining steam, because the original rumor actually came out back in February on the French gaming site
Nintendo Town
. There was nothing to substantiate the rumor, and it seems pretty unlikely, but not completely out of the question.
It is true that smartphones and tablets have severely cut into the portable console market, and Nintendo has already seen its only competitor in that space (and we use the term "competitor" loosely), Sony, already beginning to move its PlayStation branding to Android-powered smartphones and tablets. It would seem likely that Nintendo wants to find a way into that market as well, but the idea that the Wii U would be the console to start that move seems very odd considering it is not really a portable console even though the Wii U tablet controllers could very well be mobile.
We certainly don't believe the rumor, but we wanted to pass it along just in case it does turn out to be true when the Wii U is shown off at E3 in June. You know, just so we can claim to have known all along.