Results: Glass back on the LG G6, yay or nay?
11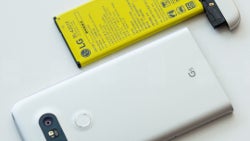 So, recent leaks about the LG G6 suggest that the company has given up on the modular design and will have a much more... solid structure. One report even went as far as to suggest that the handset will have a glass back and wireless charging as a new feature.
LG hasn't been shy about experimenting with the materials on its phones. It went from a faux brushed metal finish on the G3 to a leather back on the G4, then went full metal with the G5. Well, the latter sparked a bit of controversy, since the manufacturer used a bit too much primer for the paintjob and the G5 didn't feel as cool as you'd expect a metal flagship to feel. But still — there was no lie there.
For one reason or another, LG's 2016 flagship wasn't well-received, so it makes sense that the smartphone slinger could try some different ingredients in the recipe. Would a glass sandwich be one of them? Possibly — but rumors are just that. Still, we thought we'd ask you — would you like to see a glass-backed LG G6? Here's how the votes tallied up!