Report: Windows Phone has 104% year-over-year growth in fourth quarter
40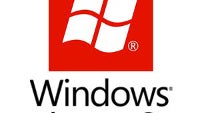 The latest data from ABI Research shows that 10.9 million Windows Phone handsets were shipped worldwide in the fourth quarter, a 104% gain from the 5.3 million shipped in the 2012 fourth quarter. That was a gain of 19% sequentially from the third quarter of 2013. Despite the huge gain in shipments, Windows Phone still makes up just 4% of the global smartphone market.
Android models (including forked versions of the OS) shipped 221.5 million units in the period from October through December, to lead the way with a 77% share of the smartphone market in the period. Year-over-year, Android's growth amounted to 50%. On a sequential basis, that is growth of 20%. The 221.5 million Android units shipped included 71.1 million units of devices powered by a forked (non-Google) version of the OS, used on low priced phones offered in China. Those phones represented 25% of the global smartphone market while the Google Services version of Android captured 52%.
"Apple continues to avoid a low cost smartphone product to target these markets, focusing instead on its traditional premium segment, where growth is harder to achieve due to fast approaching market saturation."
-Nick Spencer, senior practice director, mobile devices, ABI Research
Apple's iOS shipped 51 million units in the period to control 18% of the worldwide smartphone market. That works out to a 7% gain year over year and a strong 51% gain sequentially. BlackBerry 10 shipped only1.1 million units in the fourth quarter while the older BlackBerry OS 7 powered 4.2 million phones that were shipped during the three months. Shocking was the 42% quarter-on-quarter growth for the older BlackBerry OS.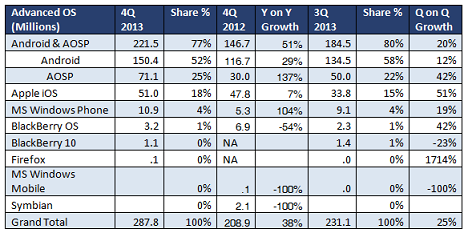 Windows Phone doubled the number of units it shipped year over year in Q4
source:
ABIResearch
via
WPCentral