RIM announces Q4 $125M loss; Jim Balsillie and others resign
34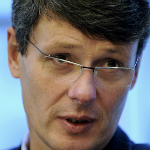 RIM has completed its quarterly earnings call and the word is already pretty bad. The company has been facing a troubling outlook for a while now, with the delay of BlackBerry 10 and the reduced number of BB10 devices. All of this culminated with RIM co-CEOs Jim Balsillie and Mike Lazaridis stepping down from those positions in favor of
new CEO Thorsten Heins
.
Early reports from the current earnings call puts RIM's Q4 losses at $125 million before adjustments on $4.2 billion in revenue. This is a significant dropoff from the
Q3 numbers
that RIM had reported, which still had the company in the black by $265 million on $5.17B in revenue.
Ex-co-CEO Jim Balsillie has also apparently resigned from the RIM board. Given that these fiscal numbers are for the last quarter of Balsillie and Lazaridis' time in charge, this isn't really surprising. After stepping down as co-CEO, Balsillie had remained on the RIM board, but now Balsillie is retiring from the company completely.
No word yet on Lazaridis' plans as to whether he will stay on as the vice-chairman of the RIM board.
In addition to Balsillie, David Yach has retired as CTO, Software for RIM, and Jim Rowan has stepped down from his position as COO, Global Operations.
It seems as though new CEO Thorsten Heins is in the mood for some Spring cleaning at RIM. We'll have to wait and see if it can help change the direction of the company.