Report: New Nexus phone by LG with 3D dual camera setup and fingerprint scanner being primed for October
28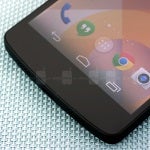 Rumors around the supposed "2015" LG Nexus 5 don't show up too often, but they are getting increasingly interesting. Check this out - South Korean media inews24 reports that the reborn Nexus 5 is being tricked out with a 3D camera module of some sort. Bear in mind, however, that the outlet refers to a "premium Nexus smartphone" made by LG, which means the device might not, ultimately, get the Nexus 5 moniker.
Then again, we did see
an LG device codenamed "bullhead" get referenced inside Android source code
, and "bullhead" sounds just like a sequel to "hammerhead" - the 2014 Nexus 5. So the stage is being kept open for debates.
While the report doesn't explain the purported 3D tech in detail, it seems we're talking about a dual camera setup enhanced with infrared light sensors to allow for operation in darkness. It sounds like the kind of technology that the Amazon Fire Phone flaunts, only there would be two cameras instead of four. A tree-dimensional interface gets mentioned as well, further reminding us of
Amazon's past initiatives
.
However, Google's influence through its partnership with LG could lead to some Project Tango technology being carried over in the revised Nexus 5.
Project Tango
enables smartphones and tablets to map out a 3D model of the user's surroundings via a depth camera, a motion tracking camera, an RGB camera, and an arsenal of sensors.
An LG official acknowledged a dual camera initiative, reminding that LG has already experimented with dual camera technology in the
Optimus 3D smartphone from 2011
, and that accomplishing a strong user experience is not difficult, as long as the adequate technology is available.
Moreover, the report implies that LG's Nexus phone will be introduced in October, shipping with Android M out of the box. Another feature that made the same list of rumors is a fingerprint scanner,
which we've heard of before
. Its addition will go nicely with Android M's native implementation of fingerprint-based security.
Source:
iNews24
(
Translated
) via
G For Games